The geographical features and climatic conditions of the region are among the most important elements that shape the culinary culture. The climate in the Black Sea region is not as generous as in the Mediterranean region. Despite all the conditions, Black Sea people have created a unique nutrition system and culinary culture which is unique in the world. Anchovy, corn flour and kale are used in the Black Sea cuisine, which has never lost its traditional flavors and unique culinary culture. Here is the Black Sea Cuisine and Trabzon Food…
Beet
This Trabzon dish is made with black cabbage and it is one of the symbols of the Black Sea. It is made from minced meat. The black cabbage wrap is known as beet. It is said that the most delicious vegetable of the region, the most important food source in the region, grows here. The beet is consumed by pouring yogurt on its and it is among the most popular dishes by the people of Trabzon.
Gulia
The main ingredient of this dish is black cabbage, animal fat and various legumes (corn, green beans, dried beans) is made by putting. Some varieties of red beans and potatoes are also used. This meal, read by the people of Trabzon as ''ğuliya'' and it is'nt lacking from the dinner tables.
Akcaabat Meatballs
Akcaabat meatballs is one of Turkey's most beautiful meatball and it is made in Akcaabat Trabzon, which is known to be constructed a small town. Ground beef, onion, garlic, Akçaabat is famous for the secret of this recipe is said to be garlic.
Grey Mullet Sour
Onions, tomatoes, peppers and parsley with round cut fish is arranged on a tray with mullet sour, squeeze on a lemon or lemon slices are flavored.
Stuffed Bonito
It is said that the secret of this Trabzon dish made with bonito is walnut, currants, allspice and pine nuts. The inside of the fresh bonito, which is emptied and cleaned, is filled with blended materials. The food is served hot by lemon squeezing and has a very popular place among Trabzon dishes.
Laz pastry
Although the Laz pastry is reminiscent of a salty pastry, it is actually a sweet pastry. It is considered one of the most beautiful flavors created by the people of Trabzon. It takes a lot of effort to make a good laz pastry. The internal mortar of the pastry is made from baklava. The pastries, which are cooked in the oven until browned, are served hot or cold, preferably with powdered sugar.
Trabzon pita bread with cheese
This pita bread is a Trabzon dish that is carefully roll out to fermented dough made with flour and filled with village cheese. Trabzon pita bread with cheese is known as one of the legendary flavors of the region. Butter and egg are cooked on the prepared pita bread and cooked in the oven. The smell of pita bread recommended to be eaten hot, even the mouth of those who are satiated.
Golia
Another flavor made with black cabbage that is not missing from the soil of the Black Sea. Golia is a dish made with kale, yellow beans, corn, red pepper and onions. Roasted ground beef is added to the flavor.
Tomara Fries
Tomara, another vegetable consumed in the Black Sea region, grows quite a lot in this region. This vegetable, which is similar to chard and cooked with stems, combines with egg, corn flour and butter to form the frying pan. Among the dishes of Trabzon is highly appreciated for this dish is called the summit of flavor.
Kuymak
Kuymak is not only in Trabzon but also it is famous on the Black Sea. In fact it is known by all in Turkey which is searched the property of being a flavor of breakfast. Kuymak, a delicious food made with corn flour, butter and famous Trabzon cheese, is eaten by dipping bread. The most important feature and secret of this dish, which is eaten directly from the ceiling, is hidden in its extended cheese.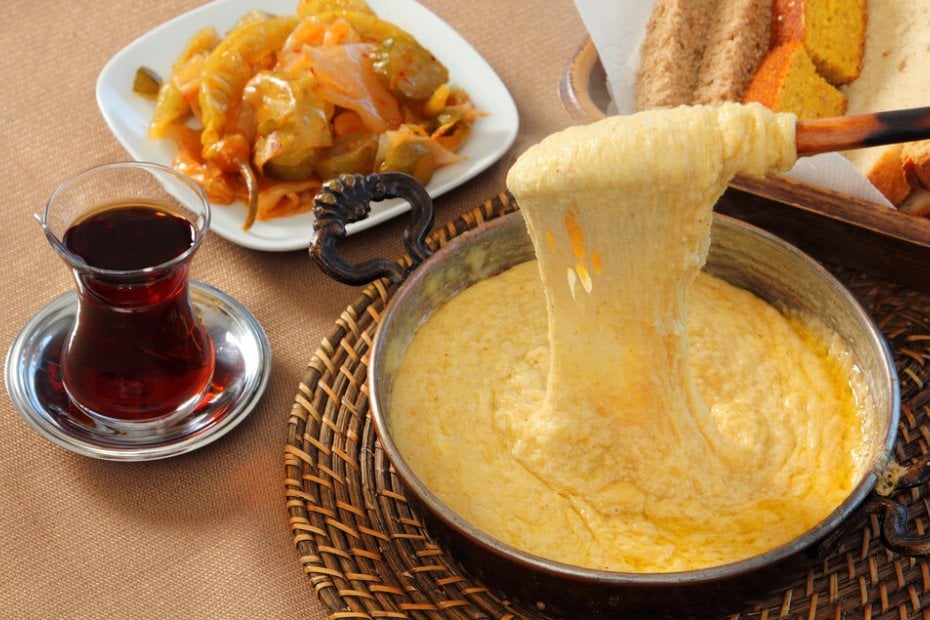 Laz havla
Semolina flour, vanilla, milk, sugar and egg yolk until the consistency of custard cooked by this great dessert, is one of the dishes of Trabzon. This flavor, which carries the Black Sea cuisine to the top, is served with ice cream because the semolina is quite compatible with ice cream.
Omelette with chard
Omelette with chard is prepared by blending chard, dill, flour, eggs, water, onions and spices and frying them in a pan and it is a delicious dish from Trabzon region of the Black Sea cuisine.
Soup with black cabbage
This soup made with the famous black cabbage soup, corn flour, red mullet and dried hot pepper is consumed with the famous corn bread of the Black Sea cuisine. This soup, which is one of the unforgettable dishes of Trabzon region, is eaten with pleasure even in summer months.
Tart with dates
The most delicious of Trabzon dishes, the tart with dates is made with ripe dates grown in the region. Tart dough is poured over the date and mortar is baked in the oven. Served as cold or hot and eaten with pleasure.
Roasted Pickled Beans
Pickles made with fresh beans can wait in canisters for a long time. This dish, created by roasting wild onions called Zaguda with bean pickles, sounds strange, but is quite delicious. It is said that when it is consumed together with corn bread, the flavor peaks. It is recommended to drink tea or ayran.
Anchovy dishes
When it comes to Trabzon dishes, anchovy comes first. Anchovy, a fish consumed in the Black Sea region, is used in almost every kind of food. Anchovy bread, anchovy soup, baked anchovies, anchovy meatballs, anchovy patty, anchovy rice and anchovy stuffing are among the most frequently consumed foods in Trabzon. Even the anchovy pickles, which cannot be made with fish, can be found in the Black Sea cuisine.