Istanbul Districts Guide for Real Estate Investment: Ataşehir
Ataşehir is a district located on the Anatolian side of Istanbul. In 2008, it became one of the 39 districts of Istanbul. The district has 17 neighborhoods.
History
Remains belonging to the stone age are found in the İçerenköy neighborhood, which is currently connected to Ataşehir district. The first settlement in the district was established in the 14th century. The land on which the Ataşehir district was located covered an area of ​​6,500 decares known as Karaman Farm in 1912. With the connection roads of the Fatih Sultan Mehmet Bridge, which was opened in 1988, passing through today's Ataşehir-Kozyatağı region, this region became both a prestigious residential area and a preferred business center on the Anatolian side.
Transportation
In Ataşehir, which is close to the city center, transportation possibilities are gradually increasing. You can easily reach Ataşehir from central districts such as Kadıköy and Üsküdar. There are transportation possibilities to the district from different parts of the Anatolian side and the European side.
Although Ataşehir is not a district with a coastline, it is located close to Kadıköy, Üsküdar and Bostancı piers. Kadıköy ferry pier is 12 km from Ataşehir center and takes an average of 15-20 minutes by car. It is 24 km between Üsküdar ferry pier and Ataşehir center, and 6 km between Bostancı ferry pier and Ataşehir center. The closest ferry pier to Ataşehir is the Bostancı ferry pier. You can reach Bostancı pier by using ferry services from Eminönü, Karaköy, and Yenikapı. After getting off at the Bostancı ferry pier, you can go to Ataşehir by using the Kadıköy-Tavşantepe metro connection or the Ataşehir-Bostancı minibus line.
If you are coming from Kadıköy, Acıbadem, Altunizade, Burhaniye and Beylerbeyi districts on the Anatolian side or the European side, you can also reach Ataşehir using the metrobus connection. There is no direct transportation option to Ataşehir by metrobus; however, after getting off at Uzunçayır metrobus stop, you can take the buses and minibusses that go to Ataşehir.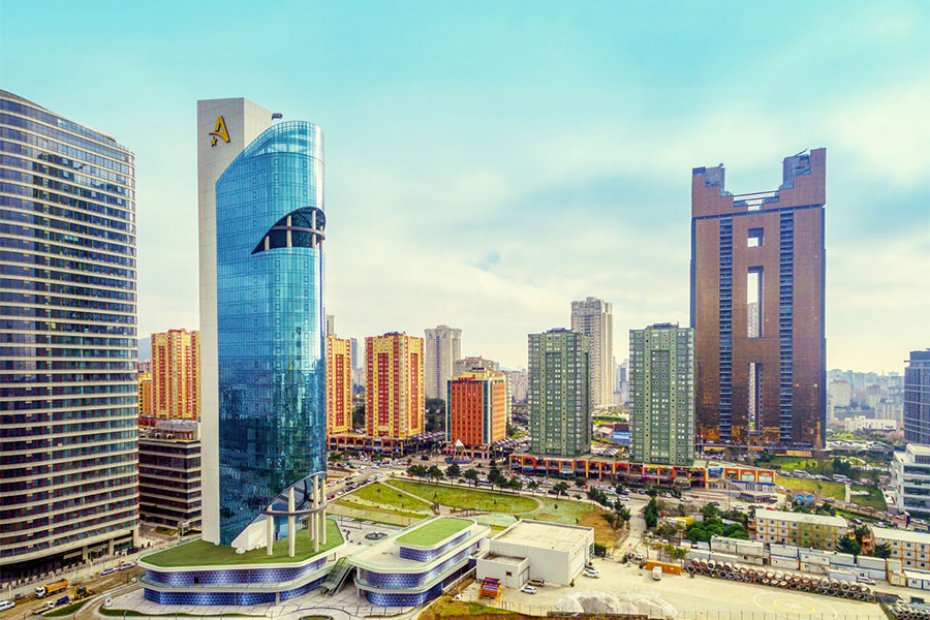 Social and Cultural Life
Ataşehir, one of the rising districts of the Anatolian side, is a district with many social opportunities. The number of shopping centers in this district is relatively high. The district hosts many venues for art, culture, and entertainment activities. Also, the district has numerous cinemas and restaurants.
Many residences are located within the sites in Ataşehir. Site life brings many benefits. It offers many playgrounds, socializing in the gardens of the sites, and safe areas for children. Also, Atasehir is one of the safest districts of Istanbul.
Demographic Structure
After the Marmara Earthquake in 1999, some of the people in the middle-upper income group living in and around Bağdat Caddesi and their surroundings started to prefer new housing projects in the Kozyatağı-Ataşehir region, thinking that they were living in unsafe buildings. After this period, the population of the district gradually increased. Today, Ataşehir has a population of 422,594.
Property Prices
Ataşehir is a district with an increasing population and housing projects. People's desire to move to the district, which has become a business center in recent years, is increasing. Especially in the western part of the district, construction companies carry out many housing and office projects. Ataşehir, which has developed considerably in recent years, is considered by many Istanbulites as one of the most livable districts. It is an excellent choice for those who want to buy a house or invest. Average housing square meter prices in the Ataşehir district are 5,361 TL, and the return time is 20 years. The average price of a 100 square meter house for sale in the Ataşehir district is between 402,077 TL and 670,100 TL. Region average is 2,195 TL for 100 square meters of rental flat.