Bahçelievler district is located on the European side of Istanbul. It is adjacent to Bakırköy, Güngören, Bağcılar, Küçükçekmece and Zeytinburnu districts.
History
Bahçelievler and its surroundings were known as Hepdemon when agriculture and viticulture activities were intense during the Byzantine Empire. Hepdemon was on the transit route of caravans and military convoys coming from Rumelia to Istanbul. Many imperial palaces, churches, and residences were built here. Thanks to its extensive lands, proximity to Istanbul, and abundant water, it became a headquarters. In big earthquakes, the people fled to this region and stayed here until the disaster's effects passed. Besides, Hepdemon was one of the most popular summer resorts due to its proximity to the capital and the Marmara coast.
In the 1900s, when economic relations with Europe developed, the construction of new highways with inadequate railways was accelerated. In the meantime, a significant road project passing through the north of Bahçelievler was done. Housing and employment areas and many neighborhoods were formed along this road. In addition to this road that became inadequate in the 1960s, a new road, E-5, was built from the south and this road bounded Bahçelievler from the south. When many factories were established along this road, the settlement started to look like a city and became a large settlement area, and today's Bahçelievler was built.
On 25 August 1992, Bahçelievler became a district.
Transportation
Bahçelievler district, which is approximately 2 km away from Bakırköy coast, is located close to many central connection points of the city, so there are many different transportation options.
Since the district is very close to the coastal districts such as Bakırköy, Zeytinburnu, and Fatih, you can get off the ferry and reach Bahçelievler on a short journey. If you want to go to Bahçelievler by sea, you can use Eminönü and Bakırköy ferry services.
Other transportation options to get to Bahçelievler are bus, minibus, metro, and metrobus lines. You can use the M1A Yenikapı-Atatürk Airport metro line to reach the Bahçelievler district directly by metro.
Social and Cultural Life
Touristic trips, shopping, and cultural activities are waiting for you in Bahçelievler.
In Bahçelievler, you can always do lots of fun activities with your family and friends. You can spend time in shopping malls, parks, and picnic areas. Besides, every year, a Theater Festival is held in the district since 2014. Young talents take the stage at the festival. You can also participate in cultural and artistic events at Cemil Meriç Cultural Center. Various theater performances, talks, conferences, panels and seminars, and cinema screenings are held in the cultural center, which has a capacity of 350 people. In addition to these, there are many quality cafes and restaurants in Bahçelievler.
Demographic Structure
Covering 5% of Istanbul's lands, Bahçelievler is one of the most important districts of the city in terms of population. The population of the district, which has 11 neighborhoods, has significantly increased since the middle of the 20th century and has become a progressively popular area.
Bahçelievler is a district that develops by immigration. Rapid population growth is caused by the migration from Anatolia to Bahçelievler. Also, immigrants from Yugoslavia have settled in various parts of the district. Immigrants from abroad (Yugoslavia, Bulgaria, Greece) constitute 9% of the district population. Today, the population of the district is 592,371.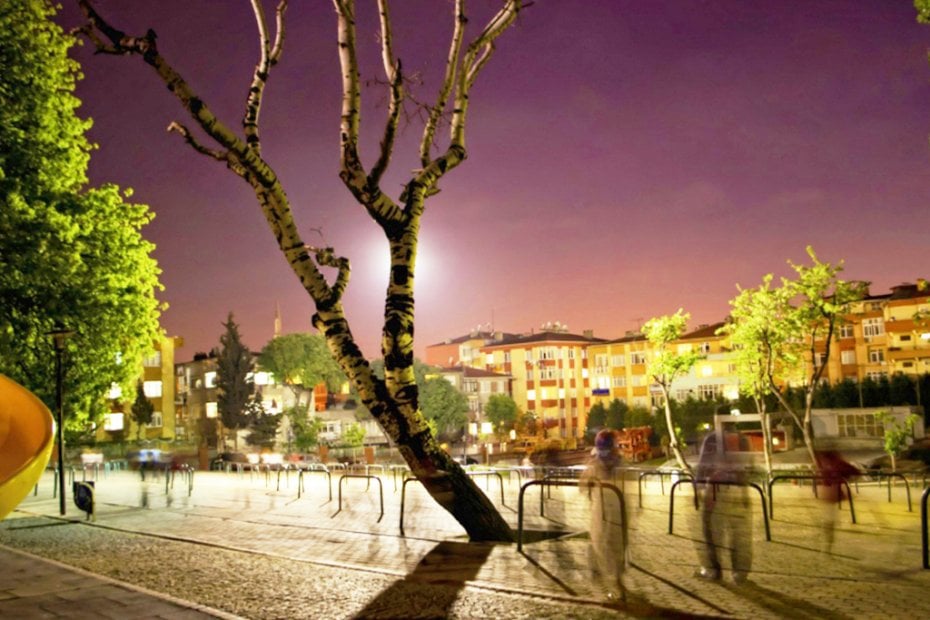 Property Prices
Since there are various transportation alternatives in Bahçelievler, even those working in the surrounding districts prefer to reside in this district. Thanks to the developed business, education, and health opportunities, the population of the district is increasing day by day; thus, the real estate sector has become an important investment tool here.
The average price per square meter of housing in the Bahçelievler district is 3,880 TL, and the return time is 18 years. The average price of a 100 square meter house for sale in the Bahçelievler district is between 290,966 TL and 484,900 TL. The regional average for 100 square meters of rental flats is 1,765 TL.
Although most of the apartments in the district are over the age of 15, there are also luxurious and modern apartments built within the scope of new housing projects in Bahçelievler.
Golden Top
Golden Top project consists of 6 blocks, 3 of which are residences and 3 are offices. The project includes 441 residences, 123 offices, and 28 commercial units. The flats within the scope of the project range from 28,5 square meters to 267 square meters. The project is located close to Istanbul Airport. There are health institutions, highways, metro, metrobus, shopping centers, social areas, international fairgrounds, and trade centers around Golden Top.
Providing 24/7 security, Golden Top has social facilities, restaurants, cafes, gyms, and swimming pools where you can have a good time.
Zeft Bahçelievler
Zeft Bahçelievler is built on an area of ​​44,326 square meters in Bahçelievler, one of the favorite districts of Istanbul with its unique culture and life.
In the project, which consists of 903 residences in 10 blocks, 1+1 apartments are between 61 and 76 square meters, 2 + 1 apartments are 105 to 173 square meters, and 4,5 + 1 apartments are between 217 and 289 square meters.
The terrace and floor gardens in the project will allow you to feel nature at your home. Residents of Zeft Bahçelievler can socialize in the mini greenhouse, wood oven, pop-up shops, and cafes. Moreover, the project includes many different playgrounds for children.
Ellipse Istanbul Residences
Rising on Basın Ekspres, Ellipse Istanbul Residences is located at the intersection of TEM E-5 - Yeşilköy Coast Line and Basın Ekspres, Ataköy-Çobançeşme line. With its location close to central points, Ellipse Istanbul Residences Project provides a new life where you can easily reach most places. The project, which rises on an area of 250,000 m² in one of the most central locations of Bahçelievler, has 488 apartments. There are studio, 1+1, 2+1, 3+1, and 4+1 flat options in Ellipse Istanbul Residence Project. Also, the project includes a sauna, a fully equipped gym, swimming pools, and playgrounds.