Located in the Asian side of Istanbul, on the most beautiful coast of the Strait, Beykoz is neighbors with Şile, Çekmeköy, Üsküdar, and Ümraniye districts. Although it is in the center of Istanbul, within the Beykoz district's boundaries, you feel yourself in a peaceful and quiet fishing village, away from the city's crowd.
History
The earliest known date of settlement in Beykoz is 700 BC. During this period, the Thracians, who came by sea and made Beykoz their homeland, were the first people known to have settled in Beykoz. Thracians built fishing villages, cities surrounded by fortified castles, and various settlements. When the Thracians came to Beykoz, they named it "Amikos" based on the name of their king Amikos. Amikos is the oldest known name of Beykoz. When the region was included within the Ottoman Empire's borders 51 years before the conquest of Istanbul, it was named Beykoz.
Beykoz, which resembles a fairy tale city with its magnificent streams, beautiful recreation areas, fertile lands, generous sea, and lush green forests, which also has a large hunting area, has an essential place in the history of the Ottoman Empire. It became one of the favorite places of the Ottoman ruling class due to its hunting grounds. Beykoz, formerly a part of Üsküdar, became a district in 1930. In Beykoz, which has grown rapidly with internal migration, the settlement is generally concentrated on the shores of the Bosphorus.
Transportation
Beykoz has become a district where transportation options have developed over the years with its increasing population, settlement, and trade centers. It is one of the districts that can be reached by sea. You can also go to Beykoz directly or indirectly by various public transportation vehicles such as buses and minibusses.
Social and Cultural Life
Beykoz offers many options for social and cultural life. It has a peaceful, calm, green and blue atmosphere that is difficult to find in many other parts of the city. You can see tall buildings, cafes, and restaurants as in the city center, these places are only 10-15 minutes from the center of Beykoz, but you can also see that there are different things from the city center. The district is rich in greenery and has a long Bosphorus coastline.
While going from the coastal road towards Beykoz, Anatolian Fortress welcomes you, and if you follow this road, you will reach the seaside where the Bosphorus and the Black Sea meet. As you continue on the coastal road, you realize that you are moving away from modern city life and getting closer to nature with every step.
Beykoz, besides its natural beauty and peaceful atmosphere, is full of places to visit and many things to discover. In Beykoz, which was a popular place in the Ottoman period, there are palaces built by the sultans. It hosts landscapes that bring green and blue together, forests that make you feel intertwined with nature, cafes, and restaurants by the sea, touristic and historical buildings.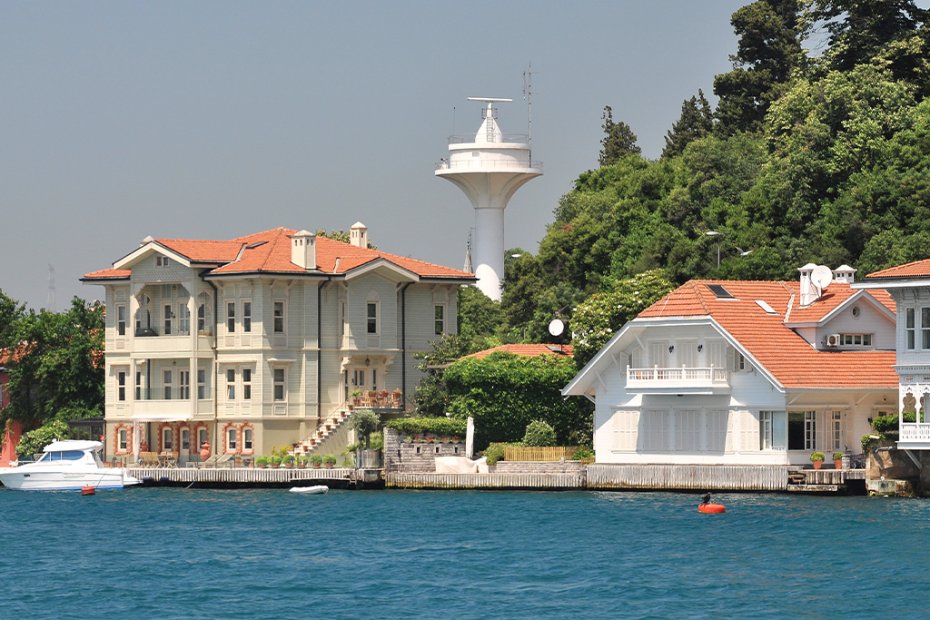 Demographic Structure
The district started to get crowded rapidly after 1955. Migration from outside had a significant effect on the increase of the population. Especially migrations from Black Sea provinces have increased, but Beykoz has received very little immigration from all over Turkey. Today, the population of the district is 246,110.
Property Prices
Beykoz, which is one of the most popular districts of Istanbul, is increasingly preferred for settlement. It is an excellent district with its magnificent Bosphorus view and city life intertwined with nature. The average price per square meter of housing in Beykoz is 6,483 TL, and the return time is 30 years. The average price of a 100 square meter house for sale in the district is between 486,194 TL and 810,300 TL. The regional average for 100 square meters in apartments for rent is 1,809 TL.
Park Jade
Park Jade Project offers you the life you dream of with its location overlooking one of Istanbul's precious forests, unique Bosphorus view, and social facilities. Thanks to the cafes, gourmet restaurants, boutique shops, sports centers, and training facilities in the vicinity, you can meet all your needs. Park Jade Project offers a wonderful life with its parks, gardens, ornamental pools, recreational areas, and walking paths, as well as an indoor swimming pool, tennis court, basketball court.
Wind City Beykoz
Wind City Beykoz Project is located at a central point where the forest and the Bosphorus view meet. The project consists of 100 residences in a single block of 7 floors. It includes 15 commercial units as well as residences. Wind City Beykoz, which has a construction area of ​​27,555 square meters, has a social facility area of ​​600 square meters. Almost all apartments of the project have balconies and terraces.