Beyoğlu is Istanbul's one of the most culturally and socially refined, exclusive districts that shines with its superior value. Serving as a home for many diplomats all around the world since the 18th century, there are many qualities that make Beyoğlu special. With its unique architectural structure or its centrist location, there is no doubt that investment in real estate in Beyoğlu is a valuable choice. Beyoğlu, also commonly known as Pera, is a district surrounding Istanbul's old town located in the north of the Golden Horn. As a district full of art, entertainment, nightlife, business, and history, it awaits its future residents.
History
Beyoğlu has a rich history that dates back to the 7th century. During the establishment of the Byzantium, the region of Beyoğlu was mainly referred to as ''Peran e Sykais'' meaning ''The Fig Field on the Other Side'' as Beyoğlu was mostly inhabited by Greek farmers and was located in the outer part of the Golden Horn. In the 5th century, Beyoğlu became a small suburb rather than a farm field and gained the name of ''Galata.'' With the construction of Theodosius II's fortress, Beyoğlu became a firm and populous settlement. It may be well inferred that Beyoğlu gained the value that it has as of our day between the 13th century and 19th century. Following the events of the fourth crusade, Byzantine Emperor gifted Pera to the Republic of Genoa as a sign of recognition for their support. Pera became a flourishing trade colony controlled mainly by Genoa along with some merchants from Venice. Many astonishing buildings were built during this period, such as the renowned Galata Tower and the Genoese Palace. A Genoese Podesta ruled Pera until the conquest of Constantinople. As the arc-nemesis of the Genoese, Venice saw this as a great opportunity and acted swiftly to empower their relations with the Ottomans. Their immediate establishment of commercial and political bonds with the Ottomans increased their power, especially in Beyoğlu. These communes of wealthy merchants supplied Beyoğlu and Italy with countless goods.
Venetia was among the first countries to establish an embassy in Istanbul, Beyoğlu. This embassy was later on converted into the ''Italian Consulate.'' During the 19th century, with Beyoğlu's diverse European population, including countless wealthy traders and embassies, it became the most westernized part of Istanbul compared to others. Beyoğlu took significant steps into technology as Ottoman's first telephone lines, electricity, trams were located there. Also, the world's second underground railway was constructed in 1875 that connected Beyoğlu with the Ottoman Empire's financial center. Beyoğlu was also Istanbul's heart of bakery and cafe culture as firsts cafes were established in this area, some of which are still open today. With the final touch of Sultan Abdülmecid, Beyoğlu shined with its Baroque and Rococo style infrastructure. Home to countless landmarks as well as the renowned Istiklal Caddesi, Beyoğlu is one of the most important districts of Istanbul.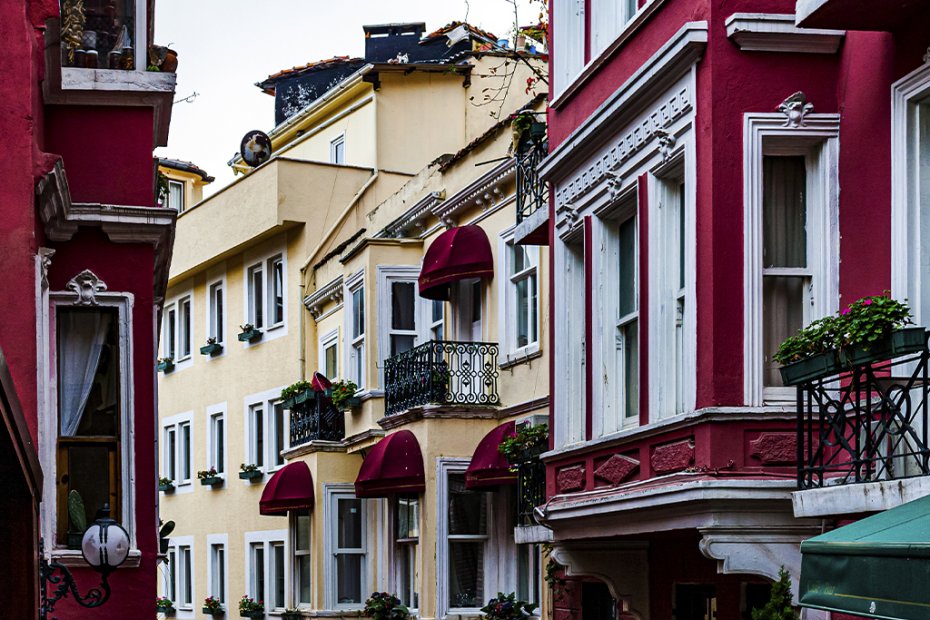 Social and Cultural Life
Fruits of highly-dense Mediterranean and European culture could be easily seen in this district. The integrity of various cultures in a metropolitan city could be seen in Beyoğlu, as these countless cultural identities left their traces back in every part of the district. Beyoğlu is home to Turkey's biggest church, Saint Antonio di Padova along with many other historical religious places such as tekkes and türbes. As Beyoğlu was the late Ottoman Empire's political heart, it is cradled with the historical building of foreign embassies, enriching its cultural structure. Beyoğlu also consists of numerous top-quality high schools as well as Turkey's considered-to-be best high school, Galatasaray Lisesi. Beyoğlu is a living masterpiece and is home to countless art projects in which artists all around the world attend to. This tourist receiving district manages to provide you a life that will never be boring.
Demographic Structure
Beyoğlu has a population of 233,323 and a population density of 25,924 people for every km2. While 33,20% and 11,80% are respectively made out of the youth and the elderly, 55% are adult/middle-aged. As 41,49% of the population is married, 26,97% is single. Beyoğlu has high education levels compared to other districts as most of the population has at least a high school education, and 15,23% have a university or higher levels of education.
Property Prices
Beyoğlu, with its fancy lifestyle and historical architecture, is one of the most expensive districts in Istanbul to live in. The average price of a 100 square meters property in Beyoğlu is counted to be near 611,800 Turkish Liras. Beyoğlu manages to maintain its residential value with upcoming projects and manufactural improvements as average property prices increased by 16,62% in a year. Renting prices are high in Beyoğlu as well. The average renting price of a 100 square meters property in Beyoğlu is 2,410 Turkish Liras. Real estate investment in Beyoğlu is among the best choices as return rates compared to other districts are advantageous since it is around 20 years.
Real Estate Projects
Beau City comes with the values of a sophisticated lifestyle that you desire. Located in the heart of Beyoğlu next to art galleries, museums, theaters, and many more, this project offers you the qualities of a fuller life. With its 24/7 reception service, indoor swimming pool, sauna, unique architecture and countless privileges, Beau City is waiting for you.
Winner of the Best Urban Renewal Project award, Sacred Taksim Residence is among the most refined projects in Istanbul. As a part of the urban renewal project in Beyoğlu, this project provides you the prestigious city life within the historical bond of the district. With its bright architecture and historical texture, Sacred Taksim Residence is not a project that you'll want to miss.