Kağıthane is a district located on the European side of Istanbul, neighboring Sarıyer to the north, Beşiktaş to the east, Şişli to south and Eyüpsultan to west. Kağıthane is one of the financial hearts of Istanbul, filled with skyscrapers and many high-class neighborhoods. Kağıthane was an important district in Ottoman bureaucracy, as it was used as a resort place for Ottoman royals. It was famous for its tulip farms, fountains, and palaces. Kağıthane is home to Grand Ottoman Archives, high-quality private universities, offices, and many historical buildings.
History
Kağıthane was an unhabitable forest zone with minor settlements until the 16th century. The first settlement in this district started near a river that flowed into the Golden Horn. It receives its name from a ruined paper factory near this river, as Kağıthane literally means ''Paper House'' in Turkish. Ottoman Sultans and Sultan's sons mainly used Kağıthane to hunt for wild animals and train in combat. As the population in this district started to increase, Kağıthane became Istanbul's one of the most critical locations. Tulips were a great source of income at those times, and Kağıthane was cradled with tulip farms. With the beauty of these farms, Kağıthane received the attention of Ottoman officials.
28th Çelebi Mehmed Efendi, the famous Ottoman explorer, brought garden and mansion blueprints from its journeys to Paris, sharing them with Ottoman architects. There were more than sixty summer palaces and mansions built for Ottoman Sultans in a brief time. These colorful buildings gave Kağıthane an authentic and classy look. Kağıthane was able to maintain its value and shine until 1730. After Patrona Halil Rebellion, the mansions and farms of Kağıthane were almost completely destroyed, and the whole district turned into a ruin. After the devastating damages it took, Kağıthane became a common fairground for many Turks to celebrate Hıdırellez. Many people who came together to celebrate this special day in the spring decided to settle as well. In a short brief of time, Kağıthane's population quickly changed from government officials to different public classes. Kağıthane became one of the essential Organized Industrial Zones (OIZ) of Istanbul in the 20th century, especially in the 1950s. With the rapid development of this region, its population saw a tremendous increase in a short period of time. Due to the district's rough geographical structure full of slopes and pits, settling was a major issue. Kağıthane became an independent district in 1987 after leaving Şişli. As of our day, Kağıthane sees great improvement in its urbanization and is considered to be one of the most valuable districts to invest in.
Social and Cultural Life
Kağıthane is full of malls, financial centers, offices, as well as schools, hospitals, gardens and cultural centers. Kağıthane is one of the districts that manage to combine both busy work life with family life. As this district is located near the center of Istanbul, it provides easy access to every part of the city. It has easy access to both E-5 and TEM Highways, many IETT stations and metro stations.
Demographic Structure
Kağıthane has a population of 448,025 and a population intensity of 29,868 people for every km2. While 55,99% of the population is made out of adults, 35,24% of it is made out of the young and 8,77% is the elderly. 45,31% of the population is married, and 24,58% of the population is single. %72,26 of people have either primary, middle, or secondary education levels while 17,17% have a university or higher education levels. 64,85% of the population is part of the A and B group of Turkish Social Economic Status (SOS), as 35,15% is part of C and D groups.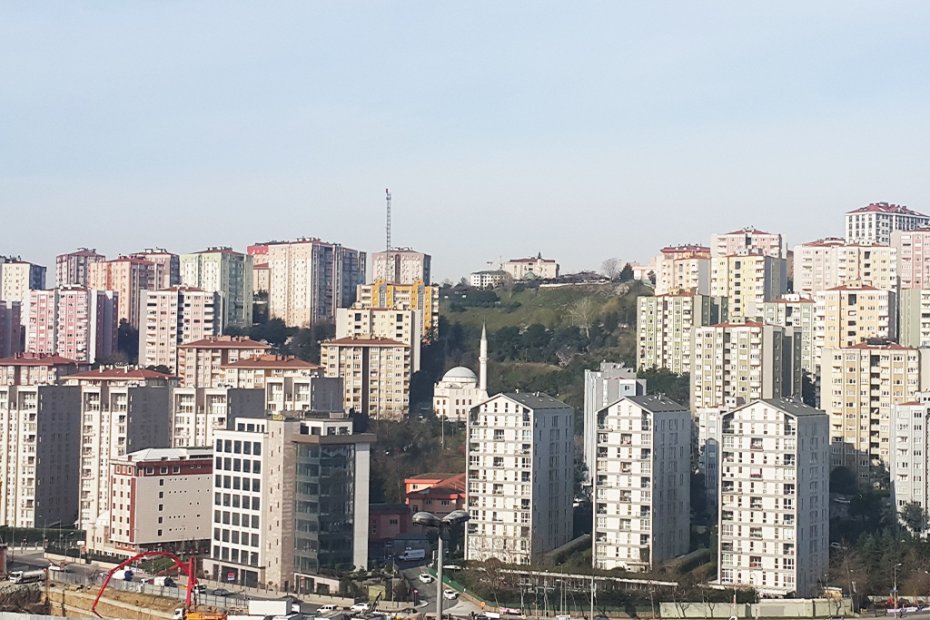 Property Prices
Real estate investment in Kağıthane is constantly growing to invest in. In the last four-year period, average property prices for every square meter saw a 39,11% increase. The average price for a 100 square meter property in Kağıthane is around 467,000 Turkish Liras. Kağıthane saw the same amount of growth in its rental prices as well. The average rental price for a 100 square meter property is around 1,837 Turkish Liras, with an increase of 35,37% over four years. Kağıthane is one of the most profitable districts to invest in as it has a return rate of 22 years.
Real Estate Projects
With its minimalist approach in design, Urban Paradise awaits you with its different options. This project redefines the very meaning of a home with its uniqueness and original architecture. Urban Paradise comes with privileges such as guest rooms, music rooms, meeting rooms, sauna, indoor pool, fitness center, and a movie theater.
Located within walking distance of renowned Büyükdere Street, Gem Residence comes with tons of luxuries along with its central location. This project has modern architecture and was designed to maximize your comfort. With its proximity to bustling financial buildings such as Istanbul Sapphire and Kanyon, Gem Residence is a project that you shouldn't miss.
Avant-garde Istanbul is the best choice for you and your family. If you wish to live the best of Kağıthane and manage the harmony between a calm life and a busy work life, Avant-garde is at the reach of your hands. This project is located on the TEM highway, next to Fatih Sultan Mehmed Bridge and Türk Telekom Stadium. With its gardens full of green, outdoor sports fields, parks, playgrounds for children, and social areas, Avant-garde Istanbul is one of the best in Kağıthane.