Pendik is a developed district of Istanbul located on the Anatolian side. This district is unique with its well-planned structure and high-quality social life. Filled with parks full of green, Pendik provides the essentials for a better life. This district is one of the main hubs of the industry in Istanbul, with additional grand harbors. Located in the most eastern point of Istanbul, Pendik is a constantly growing district.
History
Pendik was a small village that mainly depended on fishing under the Roman reign with an intense Macedonian population. This district's original name was known as ''Pantikapeun'' with the meaning of ''place that is surrounded by five walls.'' Name of the town faced with minor changes under Turkish reign and transformed into the one that is used as of our day, Pendik. In our history, Pantikapeun was occupied by Anatolian Seljuks but was conquered by the Ottoman in 1306. Many original residents fled the town, and this town remained empty until Abdurrahman Ghazi's efforts to make the best of these lands. New Turkish residents followed former residents of the city and mainly depended on fishing, creating a sustainable community for centuries. Unfortunately, Pendik was burned to ashes when 1200 buildings were destroyed. This devastating fire that lasted more than fifty hours completely turned this town into a ruin. By the Azaryan Pasha orders, architects from Paris were brought to plan the newly-built district's infrastructure. As a result of this act, Pendik is one of the most organized districts of Istanbul. Being a district of Istanbul since 1988, Pendik promises a bright future with its value.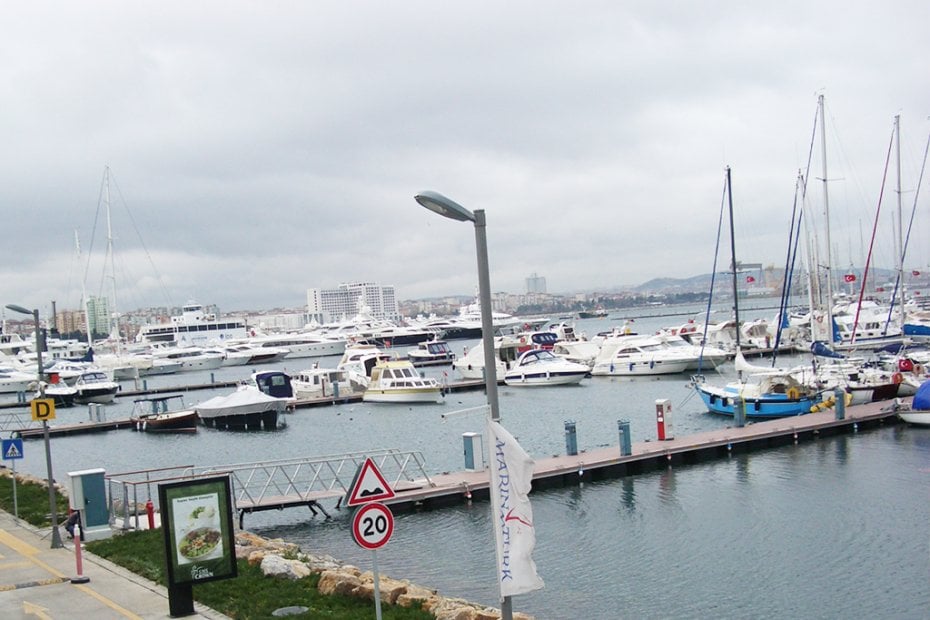 Social and Cultural Life
There is a socially and culturally rich life in Pendik. Being the gate for visitors from Anatolia, Pendik receives countless tourists every year. Combined with its urbanization, Pendik is famous for its surfing clubs, archery clubs, and many other sports clubs. With its various libraries, theatres, and high-quality public schools, Pendik establishes an advanced possibility of an academy for the students as well.
Even though it is located far out from the center of Istanbul, transportation to renowned districts is easy from Pendik. It is located near a broad highway that straightly connects to the Bosporus Strait, and it has a stop for the Marmaray train line that reaches the furthest points on the European side of Istanbul.
Demographic Structure
Pendik has a population of 711,896 and a population intensity of 3,977 people for every km2. Elderly makes up a small percentage of the population by 8,94%, while adults make 53,20%, and young people make 37,86% of it. 48,47% of the population is married when 6,39% of it was married at some point. 20,45% of the population is single. Pendik has high education levels compared to other districts of Istanbul as 17,71% of the population has a university or higher degree, and 70,90% of the population either has primary, middle, or secondary level education.
Property Prices
Over the years, investment in real estate showed constant growth due to Pendik's foremost industrial power. As numbers of manufacturers continue to increase, Pendik attracts many families searching for job opportunities. The average price for every square meter had an increase of 31,07% in the last four years while renting prices had an average of 8,57% increase. This constant growth is a signal for investors who wish to invest in Pendik. The average price of a 100 square meter property in Pendik is 345,900 Turkish Liras, while the average rental price for a 100 square meter property is 1,140 Turkish Liras. The average return rate for properties in Pendik was defined as 26 years.
Real Estate Projects
Located in the center of the district, Heaven Park is a fulfilling project. With close proximity to Sabiha Gokcen Airport, this project has all the things you need. There are also many qualified hospitals, schools, and great shopping centers near this project.
Seahorse Apartments is one of the most refined projects that you can find in Pendik. Just 120 meters away from the sea, Seahorse Apartments combine busy city life with the soothing view of the Princes' Islands. With access to shops, restaurants, hospitals, schools by few steps, this project shines with its accessibility and modern structure. This newly built modern building promises numerous luxuries for its residents. Some of these goods are indoor and outdoor swimming pools, children's playground, parking lots for residents and guests, sauna, Turkish bath, and backup generator.