Ümraniye is a developed big district of Istanbul that is located on the Asian side of the city. This district is the most populated one on the Anatolian side and is the fourth most populated district in Istanbul. Ümraniye is a rapidly developing district with its organized infrastructure, numerous industries, and well-preserved green spaces. With its authentic vibe and prosperous economy, Ümraniye is a special option in the field of real estate as well.
History
Ümraniye has a rich history that could be traced way back to ancient times. With historical evidence, it was defined that Ümraniye was one of the settlements of the Phrygians. As Phrygians saw trees, especially pines, sacred, Ümraniye was filled with trees that had great sizes. Throughout history, Ümraniye was able to preserve its trees, making it one of Istanbul's greenest districts. Ümraniye was not under Turkish reign until Ottoman Bey Orhan Gazi conquered it from the Byzantines. Until the 20th century, Ümraniye was considered a small village under the control of Üsküdar. After the events of the Balkan Wars, Ümraniye boomed with immigrants from Yugoslavia and Bulgaria. In addition to immigrants from the Balkans, many immigrants from Batumi city of today's Georgia made up the population of Ümraniye in the 1940s. Ümraniye gained the nickname of ''Immigrant Village'' for a short time. The municipality of Ümraniye district was established in 1963 after its declaration of being an Organized Industrial Zone (OIZ) by the Turkish Government. With its establishment of a district and improving industrial zone, the population in Ümraniye hit recording numbers in the 1980s. Its planned and organized neighborhood structure led to countless successes in many fields, especially the economy. Ümraniye continues to maintain its economic value as of our day and promises a successful future as well. This high-populated district is one of the most valuable places to invest in Istanbul.
Social and Cultural Life
Since Ümraniye is a district that has seen rapid development in the last 20 years and considered young, social and cultural life in Ümraniye is one of the richest in Istanbul. The population of Ümraniye is diverse, with people all around Turkey and many foreign countries, establishing a culturally rich environment. With its green areas, Ümraniye also provides life within nature. In addition, Ümraniye is filled with malls and shopping centers containing many theatres, concert areas, exhibitions, and more. The municipality of Ümraniye is sensitive to its disabled population and aims to provide them their essential help to make life easier for them.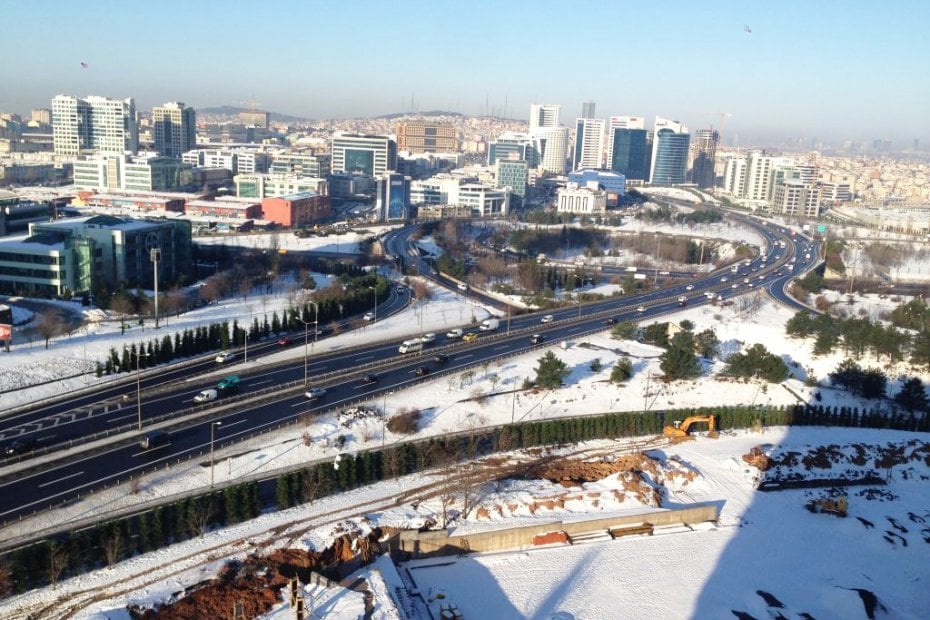 Transportation
Transportation in Ümraniye is more accessible than many other districts in Istanbul with its wide roads and avenues. As Ümraniye has a well-planned infrastructure, its streets create a better flow of traffic. Also, Ümraniye has numerous bus stops that reach to furthest points of Istanbul. Ümraniye has easy access to metro lines of Istanbul as well.
Demographic Structure
Even though Ümraniye has a population that almost reaches one million, its population density is low due to its large area and organized infrastructure. Ümraniye has a population of 710,280 people and a population density of 15,784 people for every km2. Ümraniye has primarily adult and young people as older people only make 8,94% of the population. While young people make up 36,60% of the population, adults make up the majority by 54,46%. The marital status of the population in Ümraniye is made out of mostly married or used-to-be married people. 78,75% of the population is married at the moment or was married at some point, while 21,25% of the population is single. The education level of the population in Ümraniye varies from location to location. People who have finished either primary, middle, or secondary educations make up 67,46% of the population, while 32,55% of the population either have a university education or other classified education. Social Economic Status (SOS) standards of Ümraniye is mostly made out of A and B group, showing signs of better welfare.
Property Prices
The qualities that Ümraniye provides are countless. With its organized structure, central location, highly-developed social life, and many more, Ümraniye proves to be one of the best districts in Istanbul to reside in. As this district has shown rapid development over the course of the last two decades, it has been an apple of the eye for many investors. The great value that Ümraniye received could easily be seen in its real estate prices. As Ümraniye continued to improve, its property prices showed constant growth, and to be precise, it increased by 22,37% in only one year. With such remarkable steady growth in already-high priced properties, Ümraniye proves to be a valuable place to invest in. As of 2021, the average price of a 100 m2 property is 420,600 Turkish Liras. Ümraniye saw the same increase in renting prices as well. With an increase of 18,19% over two years, Ümraniye has average rental prices of monthly 1,423 Turkish Liras for 100 m2 property. Ümraniye has a return time of 25 years. With its amazing value and its promising future with upcoming projects, Ümraniye sure is a great district to live in.
Real Estate Projects
Life in Ümraniye is one of the best that you could find in Istanbul. The countless advantages that Ümraniye provides mentioned in this article will make the best of your life. Let us take a closer look at some of the most refined projects in Ümraniye.
Located only 20 minutes away from the airport, Skyway offers you the luxurious life that you seek at reasonable prices. With its flexible design and easy access to every part of the city, this project provides unique investment possibilities.
Offering a peaceful-serene life away from the stress of metropolis, Jolly City combines business life with nature in the best way possible. This project neighbors Istanbul International Finance Center and is surrounded by forests. Filled with parks, playgrounds, trees, and shopping centers, Jolly City is one of the best projects that you can find in Ümraniye.