Today, Istanbul restaurants follow the tradition of imperial culture with their menus, ingredients, cooking methods, designs and spaces. However, on the other hand, with the effect of modernization, it reinterprets the tradition from the service to the place, from the food types to the ingredients with a Western understanding. Thus, especially in Istanbul, a culinary culture that combines elements from different cuisines and cultures is formed. Here are the most popular restaurants in Istanbul that make up this new food culture…
Mikla Restaurant
Mikla Restaurant is located on the rooftop of Marmara Pera Hotel in Beyoğlu district of Istanbul. Opened by the famous chef Mehmet Gürs, who knows Turkish and Scandinavian cuisine very well, the venue offers a Michelin quality to food enthusiasts.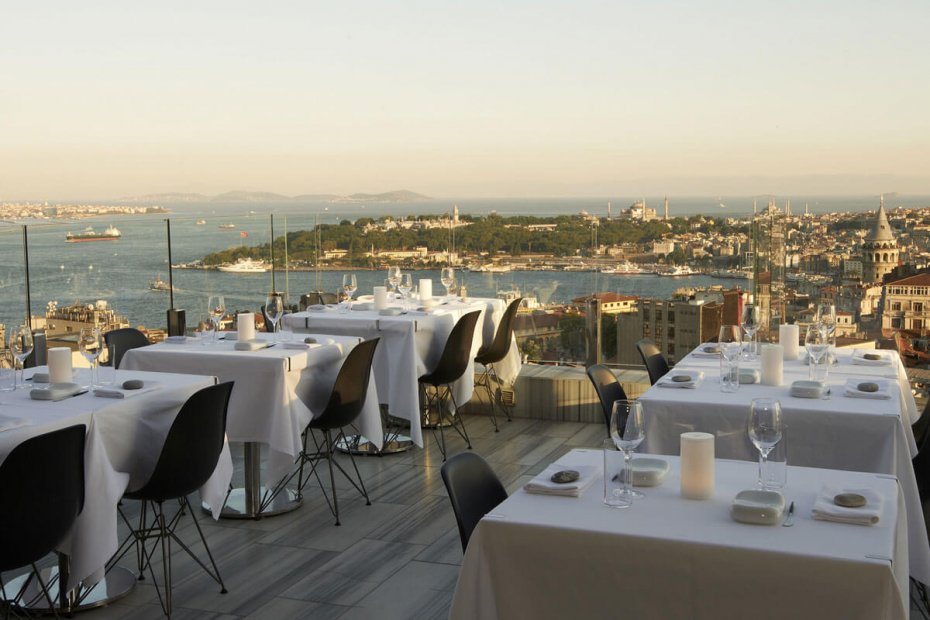 Mikla, chosen as one of the 100 Best Restaurants in the World with its contemporary restaurant style, aims to present the flavors of Anatolia that are almost destroyed to the whole world with its New Anatolian Cuisine approach with the help of an anthropologist, he wanders the villages in the remote corners of Anatolia and tries to make the same historical meal with the ingredients brought, to those who do not prefer the cool dishes served in luxurious restaurants.
Nicole Restaurant
On the street where the Italian consulate is located, Nicole fascinates its visitors with a view overlooking strait on the top floor of the Tomtom Plaza Suite hotel. There is no fixed menu in the restaurant which is based on the idea of making the guest feel special.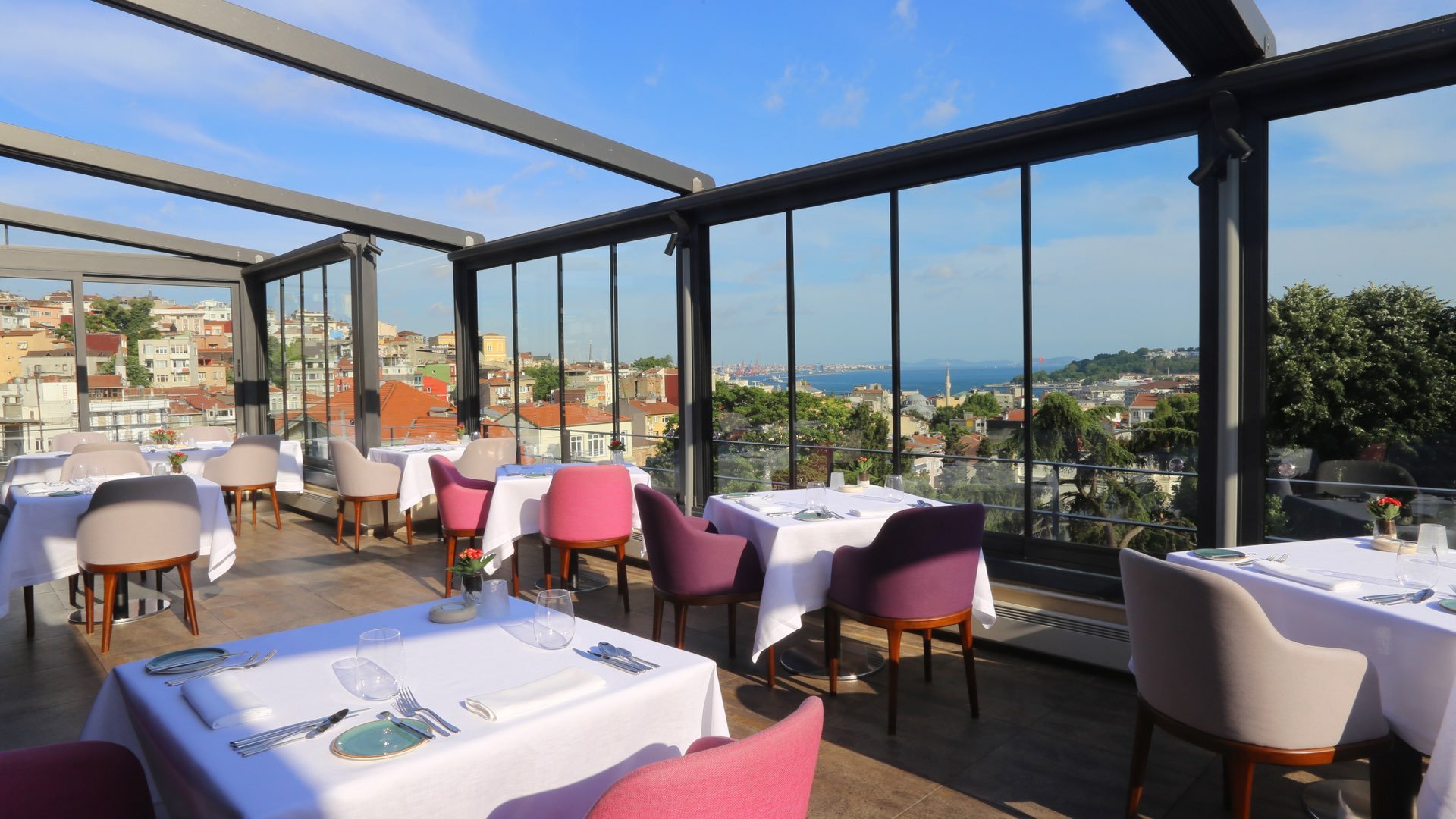 Tasting menus of organic vegetables and fruits, fresh seafood, carefully selected mushrooms, meats and cheeses are available. Being famous Turkish Gourmet Vedat Milör's favorite gastronomic restaurant in Istanbul, Nicole, of which founder and chef is Aylin Yazıcıoğlu, is one of the best global restaurants in the world.
Nusr-Et
Nusr-et, which is on the way to becoming a global brand, is known for its famous salt bae and spilling salt from elbow movement through social media. Besides being a social media phenomenon, Nusr Gökçe is the name behind the Nusr-Et brand, who has visited many countries such as America, Japan and Argentina for years, and specialised in different types of butchery, meat and cooking techniques specializing in almost every category of meat, especially meat, steak, beef tenderloin and lamb, Nusret Gökçe takes part in every process from selection of meat to presentation.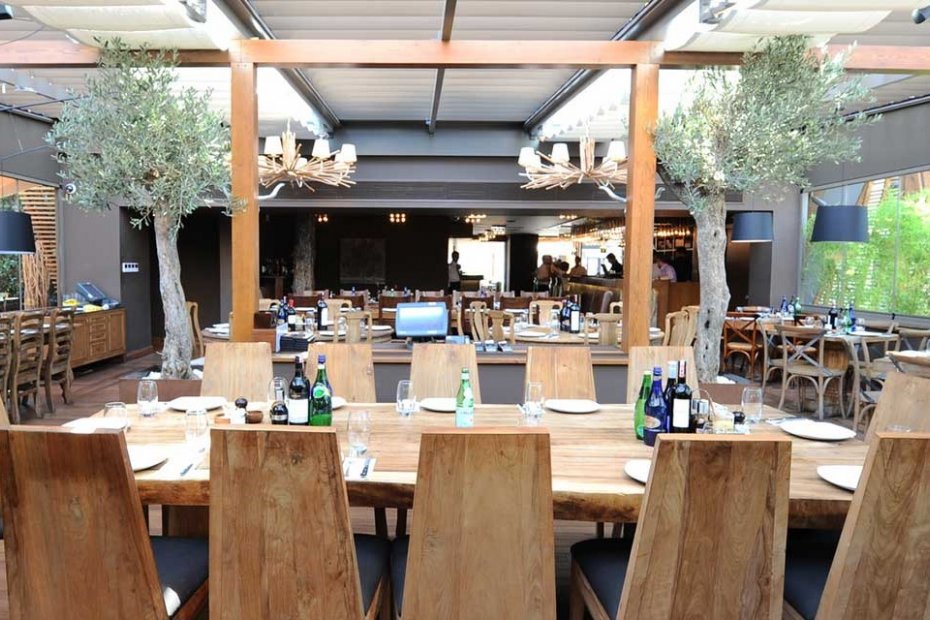 Nusr-Et, which is located in Etiler in Istanbul, offers its own types of meat such as Ceviz (walnuts), Lokum ( Turkish delight) and Kafes (cage).
Feriye, one of the buildings built for the sultans in the Ottoman period and used as a police station, is considered a rare example of 19th century classical Ottoman architecture. The place, which combines both historical and modern life in the Bosphorus, consists of restaurants, foyers, cafes and docks.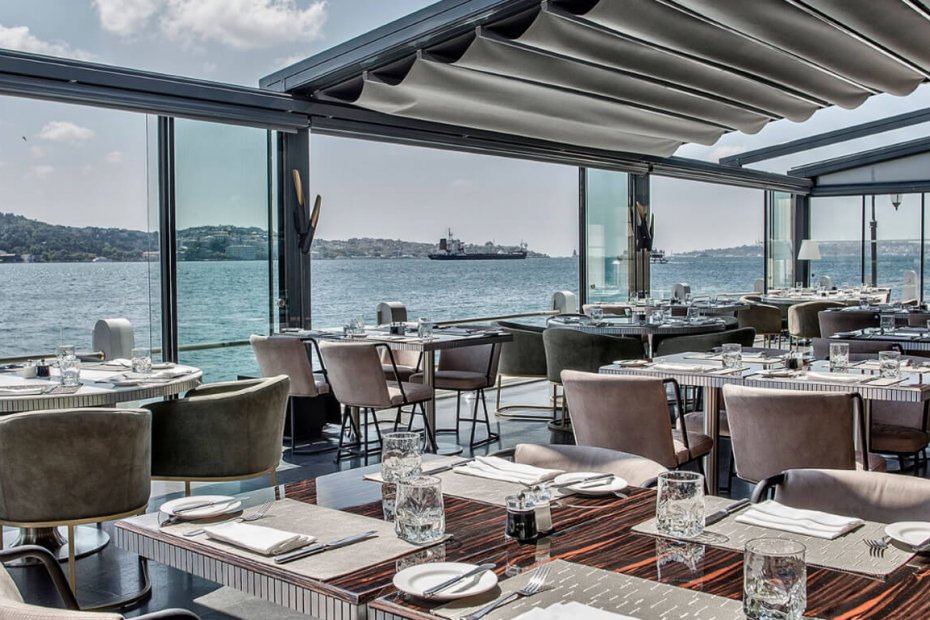 The restaurant offers an updated synthesis of traditional Turkish and Ottoman cuisine and organizes seminars and special food presentations. With its landscape and wide space, it is also known for hosting culture, art, congress and meeting events. In summer, the large terrace can accommodate 2,000 guests.
Backyard Restaurant
Backyard is a preferred place for breakfast with its lush garden overlooking the Bosphorus in Beşiktaş district. It was founded by Catholic nuns and served as an orphanage. Located on a green hill overlooking the Bosphorus, the Backyard breakfast menu includes organic Cayeli butter and honeycomb from Erzurum.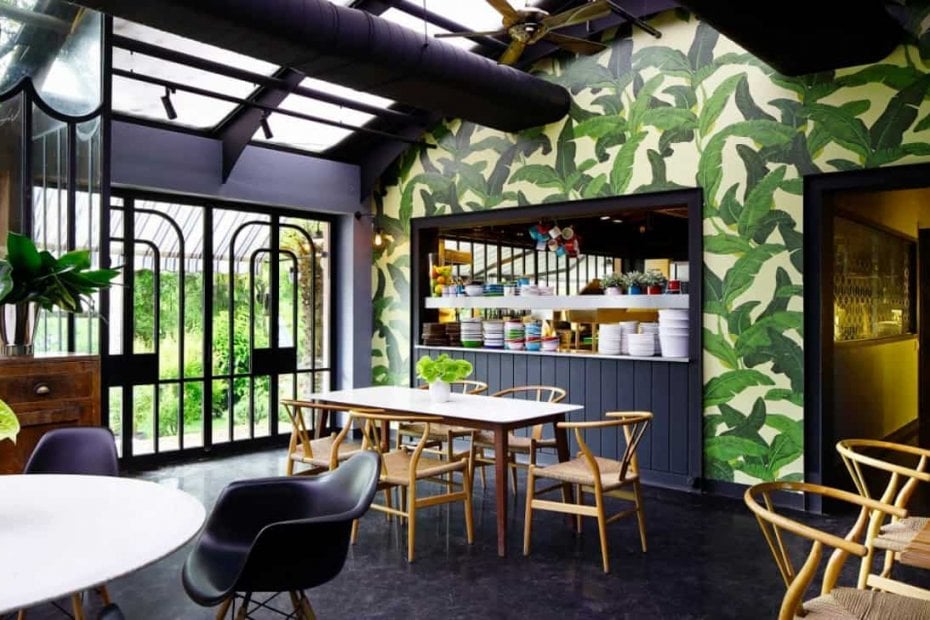 Some products are grown in the backyard's small fields, while seasonal and organic ingredients are used for the best flavors.
Beyti Restaurant
Beyti restaurant, which specializes in meat dishes, is located in Florya district with its modern architectural design. The founder and the chef, Beyti Güler, gives his name to his famous dish known as "Beyti ".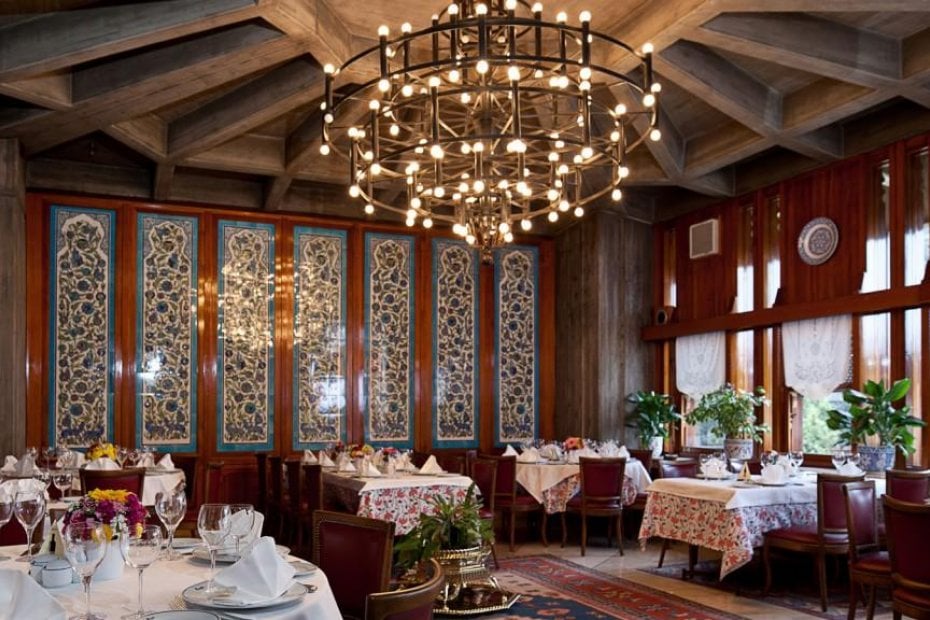 Beyti serves in ten dining rooms and three terraces with an interior decoration inspired by Ottoman Turkish art. Beyti Restaurant, where you can find excellent meat in Turkey, called as one of the best restaurants where meat is best cooked in Istanbul.
Calipso Fish Restaurant
Offering a different alternative to the taste enthusiasts on the coast of Küçükyalı, Calipso Restaurant, which is focused on fish, exhibits the most popular products of marine cuisine, especially Aegean and Mediterranean.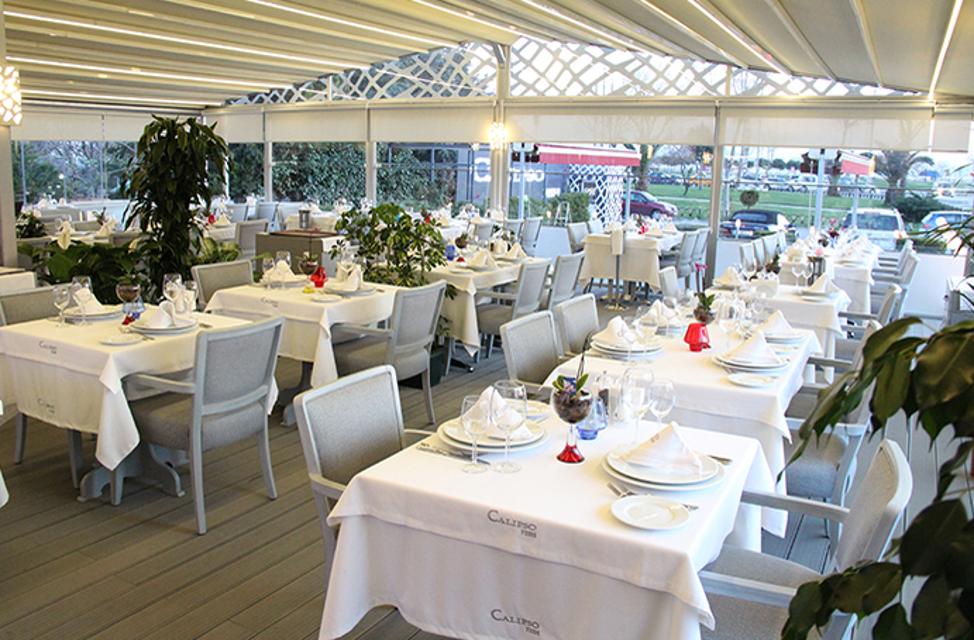 The restaurant, which attracts attention with its rich varieties, appeals to different tastes with its 75 kinds of appetizers, 25 kinds of hors d'oeuvres and many kinds of fish. The greens used in the restaurant are obtained by organic farming. Apart from traditional cooking methods, Calipso uses a variety of cooking methods, such as a stone oven.
Banyan Restaurant
With its unique view that sees Ortaköy Square, Bosphorus bridge and Bosphorus, the restaurant mainly has Far Eastern items with Thai dishes. Presenting the exotic flavors of the Far East, the venue mainly uses elements such as wood carvings and bamboo in its decoration.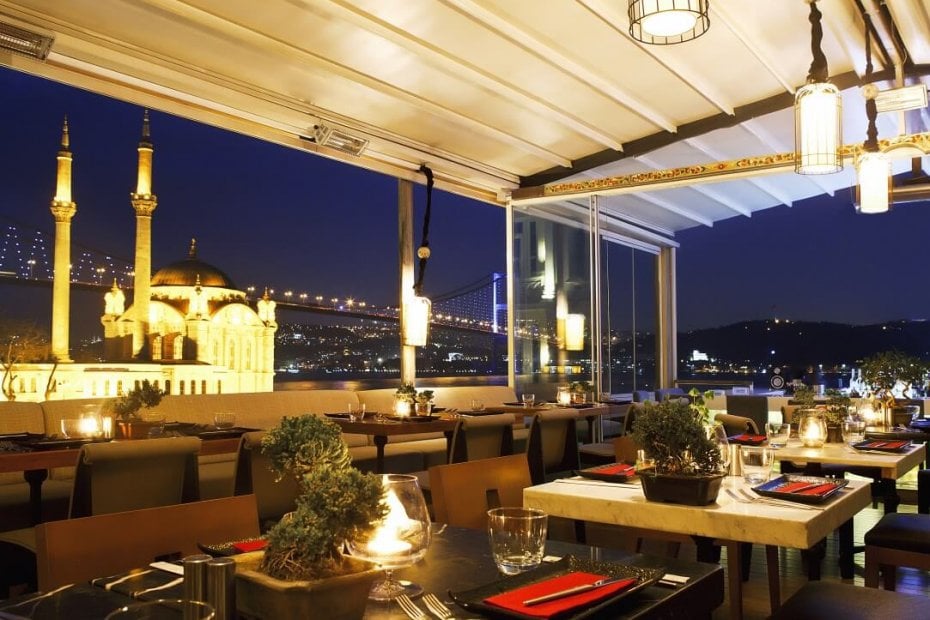 In the past, the restaurant has received many awards such as "The Best Ethnic Restaurant" , "The Healthiest Menu" and "The Best Fusion Cuisine".
Asitane Restaurant
Asitane Restaurant, which works to preserve the Ottoman Palace Cuisine and traditional cuisine cultural heritage, is located on the garden floor of a restored Ottoman mansion, right next to the Kariye Museum in Edirnekapı.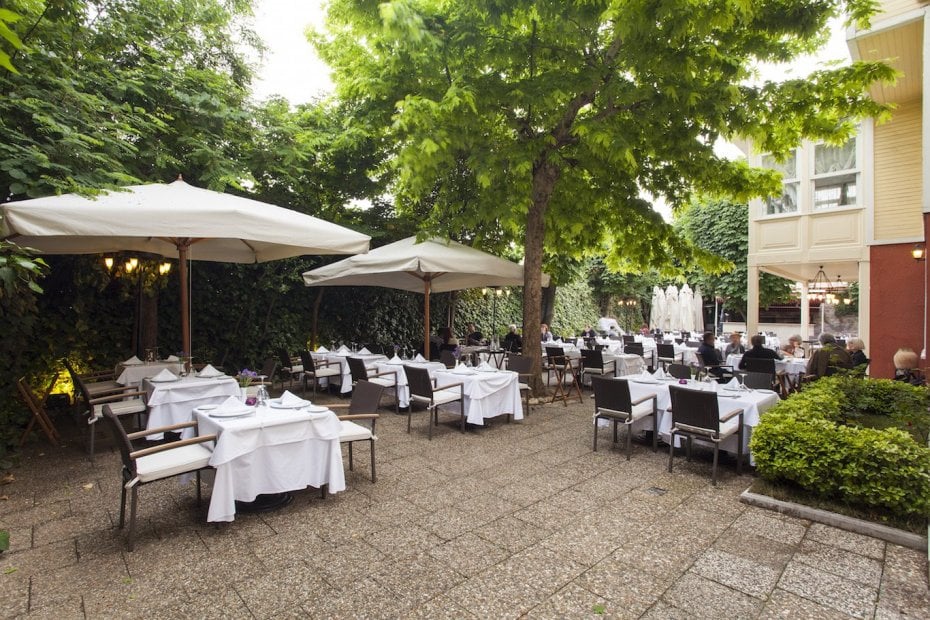 The menu was created through an academic study of books written in the Ottoman period about food and cuisine and also guest books, narratives about the food served at the festivities were used. Recently, it was also a food consultant for the Magnificent Century (Muhteşem Yüzyıl) series, which is also very popular in the surrounding countries.
Rumelihisarı Pier Restaurant
The former Rumelihisarı Ferry Port building belonging to Turkey Ferry Port Maritime Administration in Sarıyer is operated as Rumelihisarı Pier fish restaurant.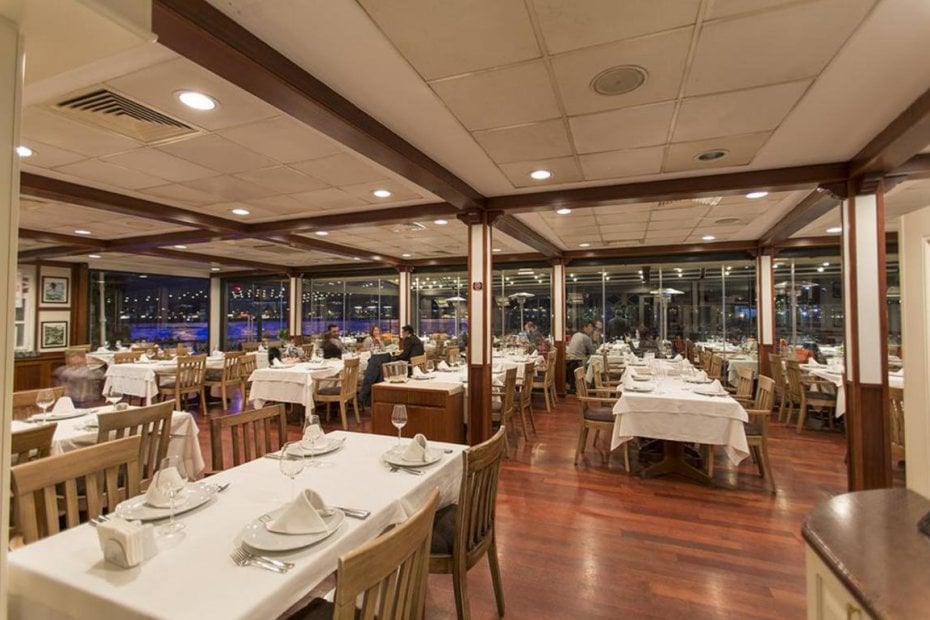 Welcoming its guests with a view of the Bosphorus, this place attracts attention with its well-trained waiters, world-class appetizers, shellfish and fresh fish. In addition to fresh seasonal fish, you can experience many tastes like eggplant salad, appetizers, fried mussels, which are suitable for your taste.
Leb-i Derya Restaurant
Putting one of the most beautiful views of the Bosphorus in front of you, Leb-i derya aims to develop the "New Generation Tavern "culture by blending tradition and modernism on the theme of taverns inspired by Anatolian cuisine.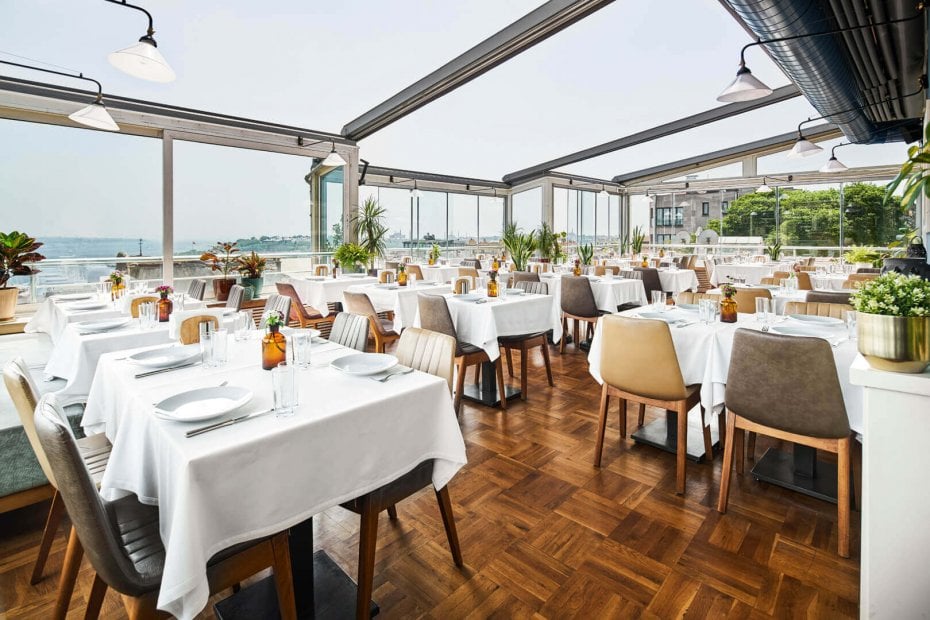 Leb-i Derya, which reflects the taste mosaic of the Ottoman Empire through centuries of intercultural interaction to today's tables with a stylish and simple presentation, and it is also regarded as one of the best terrace restaurants in the world.
360 İstanbul Restaurant
With its 360 degree breathtaking view, the venue is located on the terrace of the Historic Egyptian Apartment in Taksim. With its panoramic view that has become an international icon, the kitchen is trying to combine design, entertainment and atmosphere.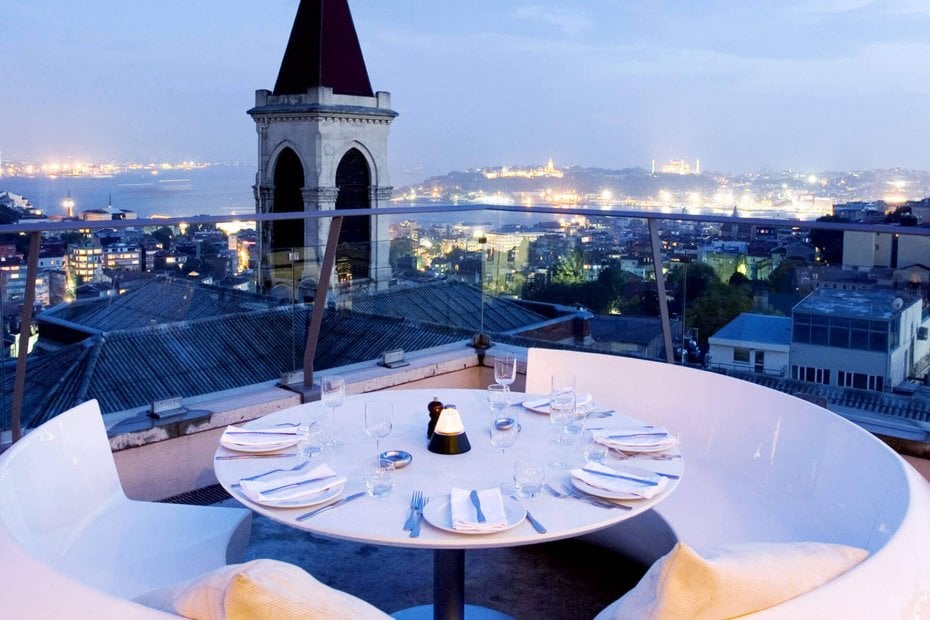 The venue, which hosts famous artists and DJs from abroad, welcomes its customers with live performance and dinner. The ambience of 360 İstanbul Restaurant, is half-restaurant, half-night club.
Peninsula Restaurant
Located on the terrace floor of Karaköy, Peninsula Restaurant offers a magnificent view from which you can see Bosphorus, Historical Peninsula, Galata Tower and Maiden's Tower. With this feature, according to Tripadvisor, it is among the top 10 terrace restaurants in the world.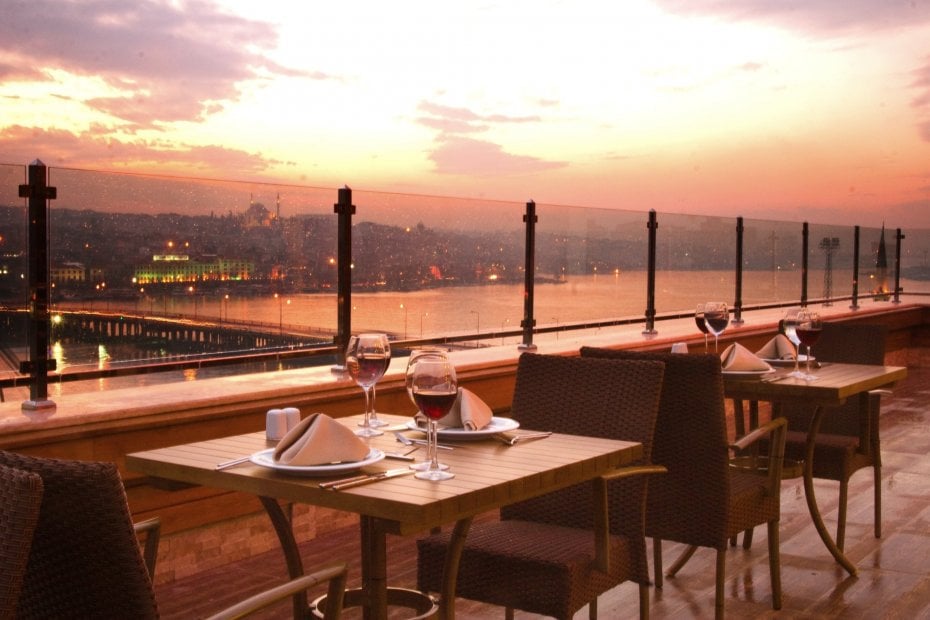 The menu includes both meat and fish options and includes vegetarian-friendly, halal and gluten-free options. With its 150-person open space, friendly and caring staff, it has a privileged place for private invitations and business dinners.
Lacivert Restaurant
Lacivert Restaurant, which hosts the delicacies of Mediterranean cuisine and one of the romantic views of the Bosphorus in the middle of the day, at sunset and in special times, is distinguished as a place that blends traditional and modern times and serves the most beautiful Mediterranean dishes of Turkish cuisine to its visitors and is ruled by Chef Hüseyin Ceylan.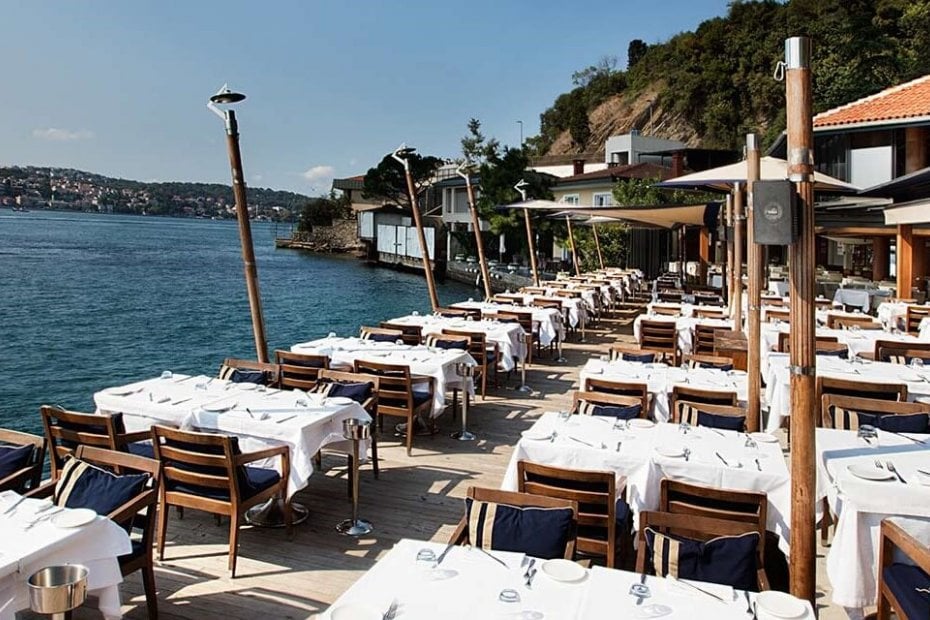 The place, where traditional Ottoman sherbets are also offered, is known for having each of its special tastes individually certified as organic.