Residences that are opening the door to a safe and comfortable lifestyle in Istanbul, coalesce with the finest views in Istanbul. Many advantages and conveniences can be achieved at residences in terms of architectural understanding, opportunities to socialize, various services and consultancy aside from the purchase of an apartment. In Istanbul where the most distinguished projects of developed Turkish civil architecture are located, residences now have the power to change the skyline of the city. The fact that these residences that have a high number of floors are intertwined with Bosphorus, sea, city and nature sceneries create a desirable comfort.
Beyoglu Treelife
Located in the neighborhood of Mecidiyekoy in Sisli, one of the most central districts in Istanbul, Beyoglu Treelife is only 5 minutes away from the center. 25 minutes away from the airport, Beyoglu Treelife is just 10 minutes to the beach. Within a great life complex, Beyoglu Treelife is composed of 2 large tower projects. The project that covers a 260.000 m² total area, has 205 apartments and 37 floors. Design of the project that was actualized by Taş Yapı, belongs to Brigette Weber.
Each apartment in the residence towers have different measurements. Starting from 70 m2 at least can raise up to as wide as 680 m2. Providing great conveniences in terms of transportation, Beyoglu Treelife is located by the metrobus and metro stations. Beyoglu Treelife also grab attention by its social facilities. Beyoglu Treelife provide its residents with various services such as outdoor pool, mall, Turkish bath, conference room, gym, restaurants and cafes, sunbathing terrace, health services, children playgrounds, indoor car park, hairdresser, valet parking and social areas such as basketball and soccer fields and walking parkours.
Cloud Nine Residence located in Sarıyer, Istanbul, is only 10 minutes to the center. Cloud Nine being in an only 20 minutes distance to the airport, offers its residents special opportunities with its social advantages and impressive architecture. Being one of the newest structures of Istanbul, Cloud Nine has been designed by successful architect Broadway Malyan. The project located on a 600.000 m² area, has a total of 67 floors. Round up number of apartments within the building reach 1129. City, sea and Bosphorus views in 360 degrees make Cloud Nine one of the favorite locations. Cloud Nine which is an investment project of 700 million dollars, amazes those who see with special apartment types; City Suites, City Apartments and Sky Suites.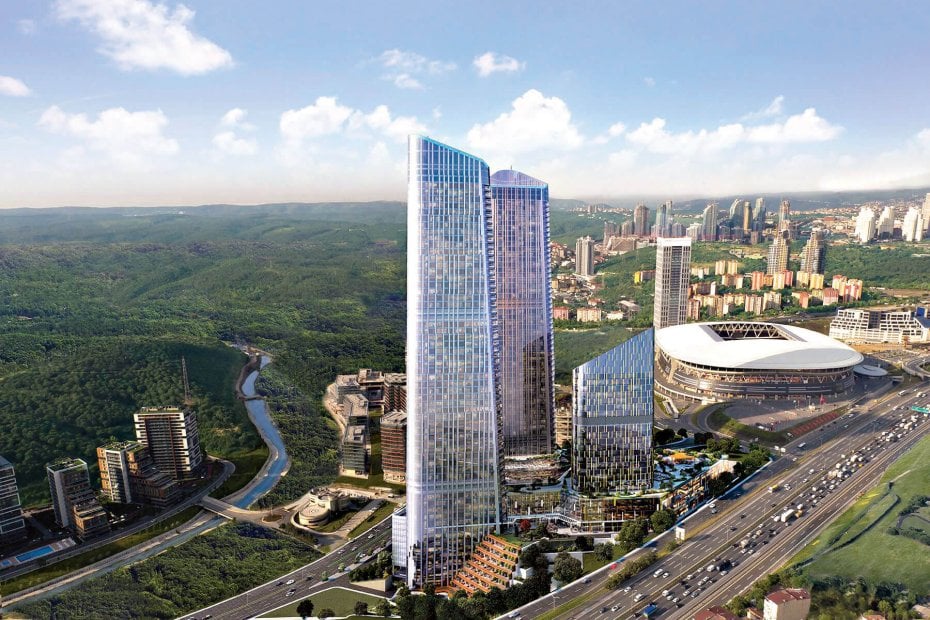 Cloud Nine also provides 518 offices and a mall at the size of 40 thousand m2. Cloud Nine also features a 49+1 design in a C type apartment in addition to 1+1, 1+0, 2+1, 3+1 and 4+1 apartment types. You can forget all about electricity and water cuts in this particular residence. Indoor pool, sauna, forest views, cafe, market, fitness center, steam room, convention rooms, Turkish bath and other additional services are also amongst the facilities you will have access to. The most important quality of Cloud Nine Residence is that the apartments have a new generation smart home designs. You can manage your houses heating, cooling, lighting and air conditioning systems through your smart phone.
Aris Grand Tower, a miraculous wonder of engineering and architecture, steps forward as one of the ultra luxurious residences located on the vital points of Istanbul. Aris Grand Tower Residence that is located in the central location of the city that has a growing admirer base, is made up of unique apartments that is in a very short distance to metrobus, highways and important malls. The residence that has a private indoor pool, a spa center and fitness centers is located on Adile Naşit Boulevard of Esenyurt.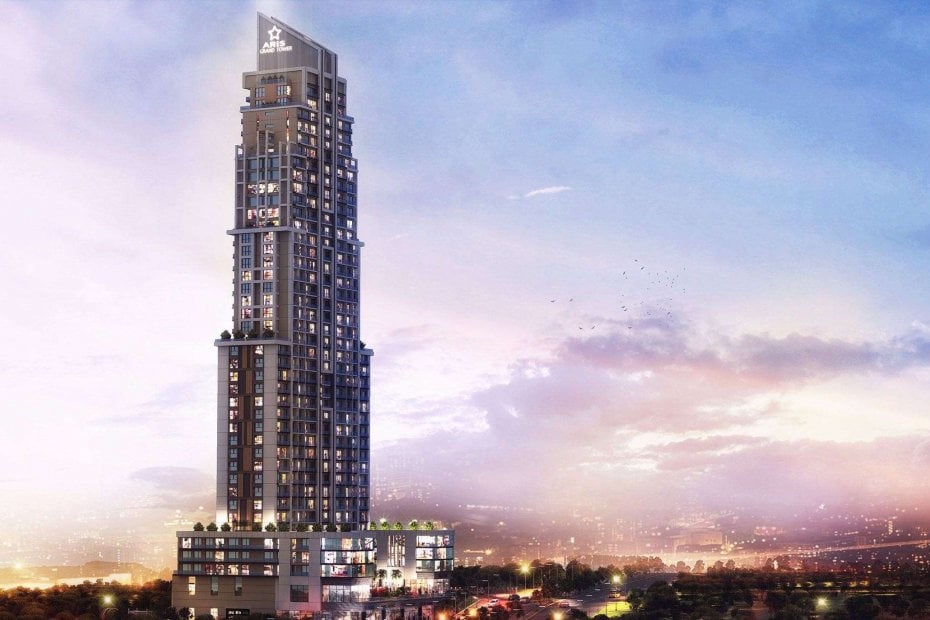 Billiard rooms, basketball fields and tennis courts, restaurants located in the ground floor and its garden with exquisite botanical arrangements are also included within the project. The residence that has an elite atmosphere is home to widest views of Istanbul. Luxurious living areas, grand bathrooms, large kitchen settings and amazing lightings are all being offered in one.
Evergreen Residence
In the project that has come to life in Başakşehir, Istanbul, 2+1, 3+1, 4+1 apartments with terraces or floor gardens are offered. The residence that is under the influence of a horizontal architecture style, grabs attention by being a project open for investment ideas. Evergreen Residence that offers services like reception, concierge, lounge, bellboy and separate pools and gyms for men and women for request, also houses 27 stores.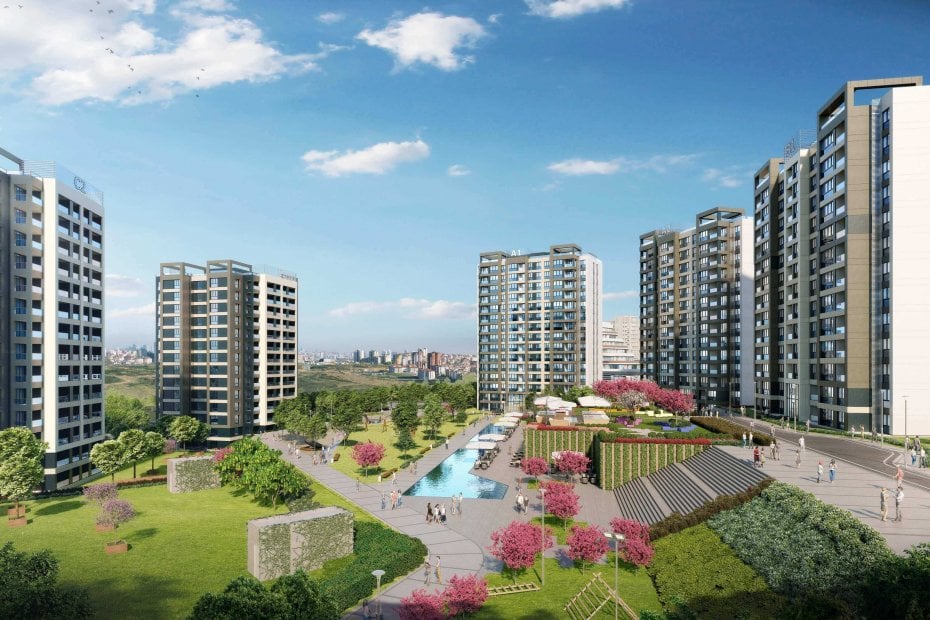 The projects closeness to Istanbul's biggest mall Mall of Istanbul and to the new airport catches the attention of investors. Providing conveniences in terms of transportation, Evergreen Residence is closely located to Bahçeşehir, Merter, Bakırköy and to the coast road. In almost all sides of the residence that features a fresh view and wide terraces, glass walls are preferred for an even better view. The wide living space in the middle of the project that is The Square, grabs attention with its size which is twice the size of the famous Taksim Square.
Blue Triumph Flats
Located in the developing district of Küçükçekmece of Istanbul's European Side, Blue Triumph Flats was built by Metal Construction Housing. Made up of 788 apartments and 8 blocks, Blue Triumph dazzles with its aesthetic architecture understanding. The residence that has started giving out the keys in July 2018, also provides installment options for payment. Blue Triumph Flats also offer socio-cultural areas such as outdoor and indoor pools, children playgrounds, sauna, restaurant, cafe, cinema and fitness center to its residents.
It brings transportation conveniences with its closeness to Ataturk Airport, E-5 highway and TEM highway. Having a successful policy in terms of security, the project features sunbathing terraces too. Residence's conveniences such as fiber internet, satellite and tv connections, smart home systems, strong sound and heat insulation are qualities that enhance the comfort. Blue Triumph Flats have apartment types of studio, 1+1, 2+1, 3+1 and 4+1.
Paramount Lake
Impressive with its botanical arrangements and its design that resembles jewelry, the chic residence rises in Bahçeşehir one of the most important locations in Istanbul. Being prepared by Garanti Koza, the project is to be completed in 2019. Paramount Lake project that covers a gigantic area of 200,000 m2, features 4600 apartments and 105 commercial units. Residence that is close to metro and metrobus stations, manages to catch attention with its social living areas. In the project that offers children playgrounds for big families, there is a total of 70,000 m2 green area.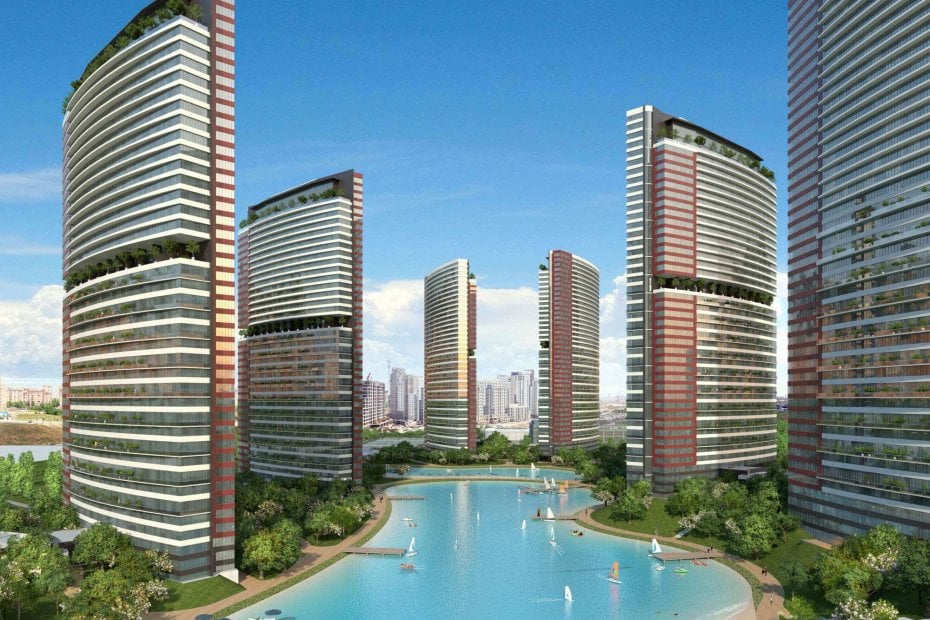 Paramount Lake steps forward as the first project that features a swimmable artificial lake in Turkey. Thanks to your reserved spot in both indoor and outdoor car parks, your vehicle always stays safe. Walking parkours, cafes, restaurants, stores, gyms, swimming pools, saunas and fields for various sports located within the project provide a comfortable life advantage.
Gayrimenkul 24's special project Harbour 24, offers a design unlike the ordinary. The transparent design that rises from all four sides with aesthetic molds makes this residence one of the distinguished architecture examples. The residence that is made up of only 367 apartments, is the right choice for those who prefer calm and wide living areas. Located in Mimaroba, one of the most elite districts in Istanbul, Harbour 24 is in walking distance to gorgeous Blue Flag Mimaroba Beach.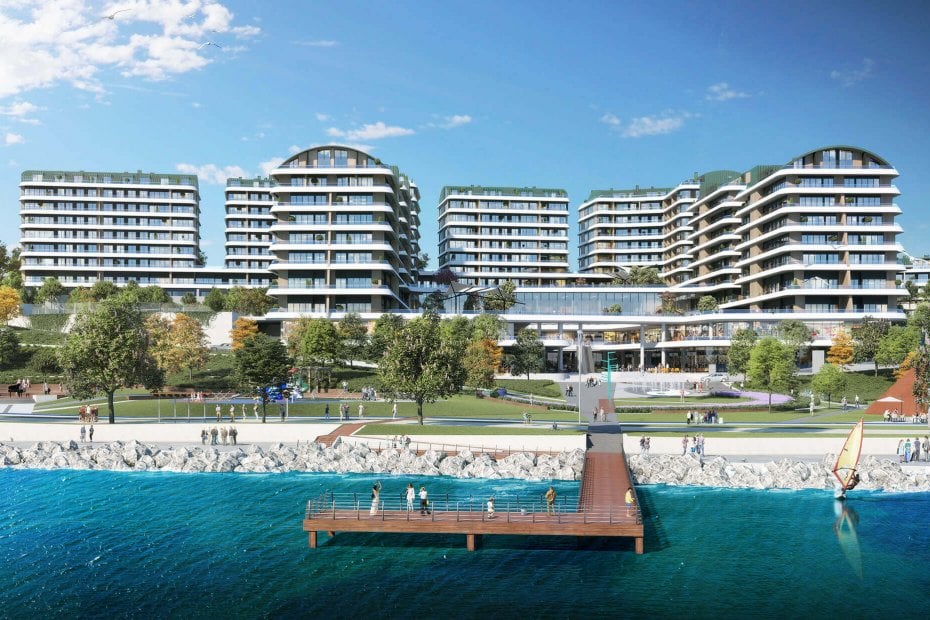 The fact that the project is very close to E-5 highway and the bus stops helps residents get to the center of the city so easily. You can blow off some steam in the indoor and outdoor pools, do sports activities and use walking parkours. Suitable areas for experiencing various pleasures such as sauna, Turkish bath, fitness center and sunbathing terraces also await you at Harbour 24.