The street vendors, which is in the postcards of Istanbul, decorating almost all the photo frames and offering traditional tastes to the visitors, are just one example of Turkey's pupil and telling Istanbul's history and culture. On the streets of Istanbul, street vendors are often seen that offering delicious and fresh food and creating festivities on the palates. The vendors, who have a nostalgic effect on the streets, sell food such as pita bread, cold sandwiches, rice with chickpeas, pickles, bagels and sherbet desserts. The street vendors, who continue to color the streets of Istanbul, impress the visitors with the importance given to the cleanliness of the food, the appetizing appearance of the food and the inviting scents.
Fish and Bread (Balık Ekmek)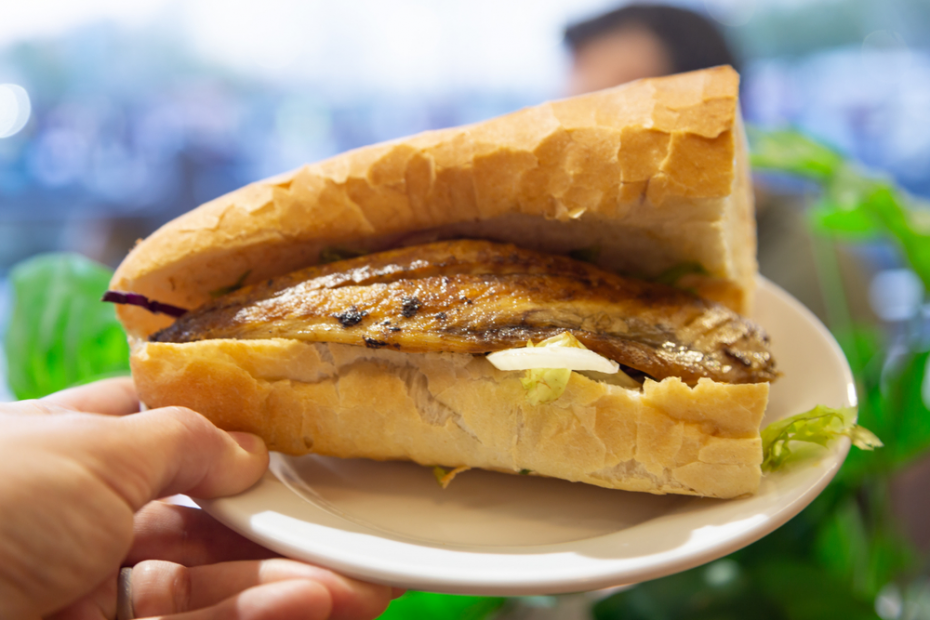 we frequently see in Eminönü to fishermen, which delivers fresh fish scents to Karaköy İskele Square and Galata bridge, are among the street dishes that attract the attention of local and foreign tourists. In small boats on the sea, the taste of the fish prepared on the grill is unique. The fish is served with fresh greens and optional onions and half bread. Small stools placed in front of the boat are usually full. In streets, people can't bear the attractiveness of the smell of the grill like freshly caught fish and people who has quitting time can't go without stop by.
Kokorec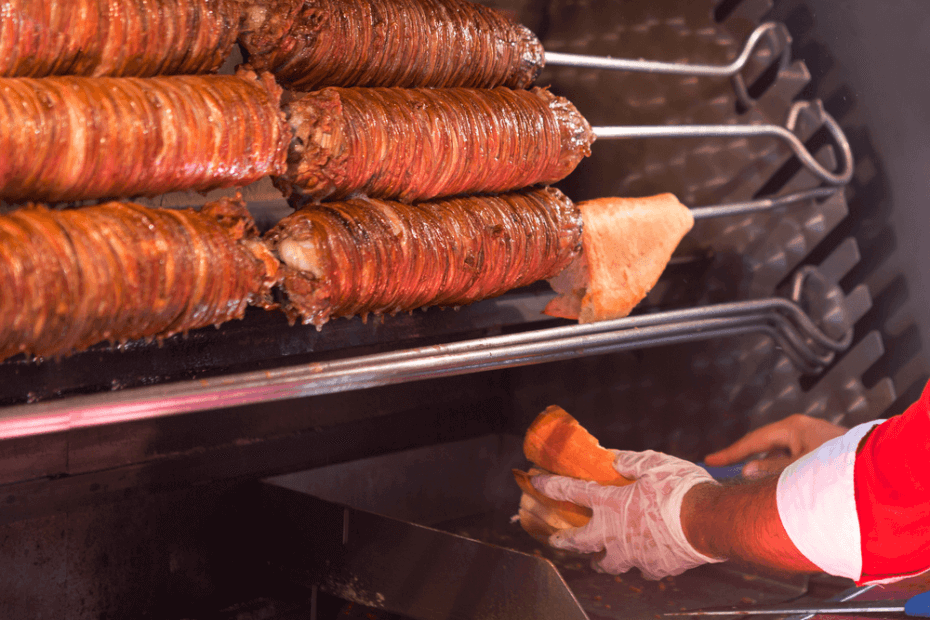 Kokoreç is one of the delicacies that still stands up against the discussions made over the years since it is among the prohibited foods. Generally it is preferred after night activities such as bars and after concerts, kokorec is defined as the most delicious form of the intestine. Intestine thoroughly is washed and cleaned and marinated in milk and then cleaned again with a large bottle is wrapped in order. First, it is called pancreas, sheep sausages and small intestine on the top is prepared to put. Cooked in tandoor, grill or charcoal fire, the kokoreç is served as a portion on the plate or, most preferably with a bread. Kokorec lovers insist that the most beautiful shape is eating it without sitting down. Kokorec can be made in two different ways: Istanbul and Izmir. Istanbul-style kokorec is cooked on a sheet metal, while Izmir-style kokorec is cooked by rotating it horizontally on a barbecue and prepared by adding oregano and chili peppers. In both forms, the highly popular kokorec attracts the curiosity of foreign tourists who find the discussions on its ban interesting.
Street Pastry (Pogaca)
Among the neighborhood, mobile street pastry shops, employees who can not find time to eat breakfast and hungry for a quick snack or people who want to add a fresh taste to breakfast is an indispensable tastes. The street pastry, which takes its taste from plenty of oil, pauses people passing by in the mornings with the smell of freshly baked. In general, cheese and plain pastries, potatoes and with mince varieties are also available.
Sherbet Ring Dessert( Halka Tatlısı)
It is known as the long and rounded version of tulumba dessert, which is among the famous flavors. Taking its name from its shape, this crispy, mouth-watering dessert is one of the Istanbul street tastes.
Milk Corn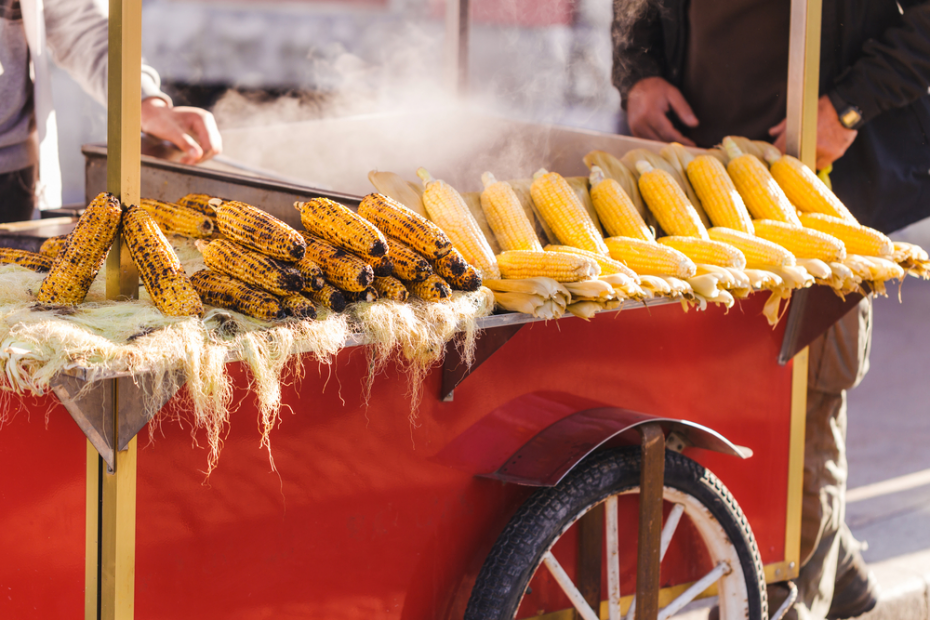 When the season comes, boils and roasting takes place in the streets of Istanbul. It is not possible to go without eating, with its smell say ''stop'' the people, almost all kinds of people appeal to this street flavor which is generally seen more in the coastal areas. Even though there are corn grains sold in glasses in the streets and shopping malls, it is said that eating corn on the cob is another pleasure.
Sandwiches
Cold sandwiches made with optional ingredients placed in fresh bread on mobile benches are another taste. This dish, which can be easily prepared at home, has also a lot of aspirants in the street. On the material bench; there are tomatoes, feta cheese, olive paste, cream cheese, cucumber, salami, ham, pepper, tulum cheese and cheddar. This fresh flavor, which cannot be said ''no'' by the students who get out of the school and can not wait for dinner, the employees who has quitting time, is also among the street delicacies of Istanbul.
Bagel(Simit)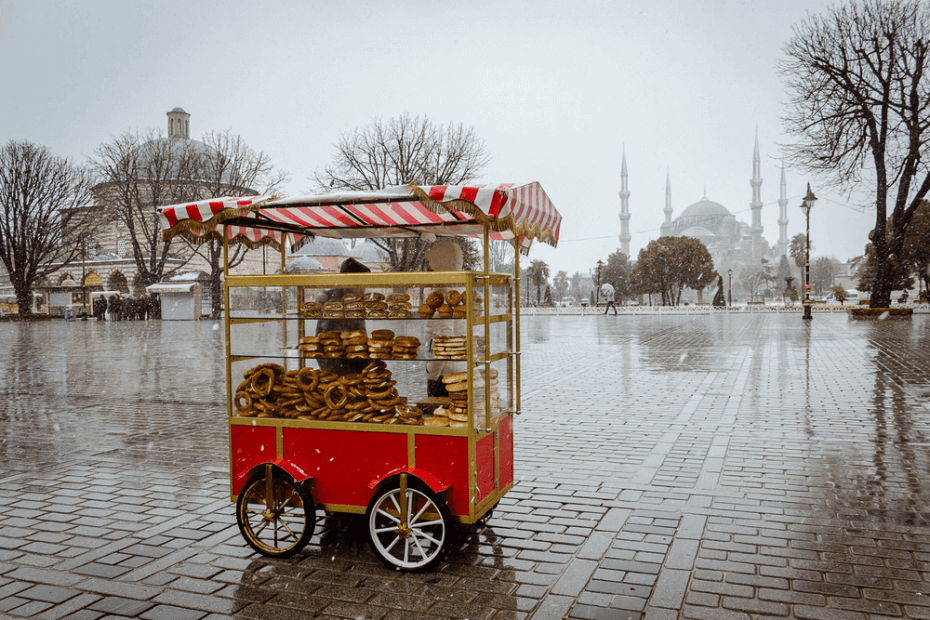 Bagel, which can be found almost every street, beach, bus stops and school corner, is one of the Istanbul's indispensable flavors. While it is preparing, molasses is applied on the leavened dough and covered with sesame seeds. The pretzels prepared in this way are fried in the oven until golden. The bagels, remembered by foreign tourists to be thrown into seagulls after the outgoing ferry, are among the most crisp street legends.
Kumpir(Baked Potato)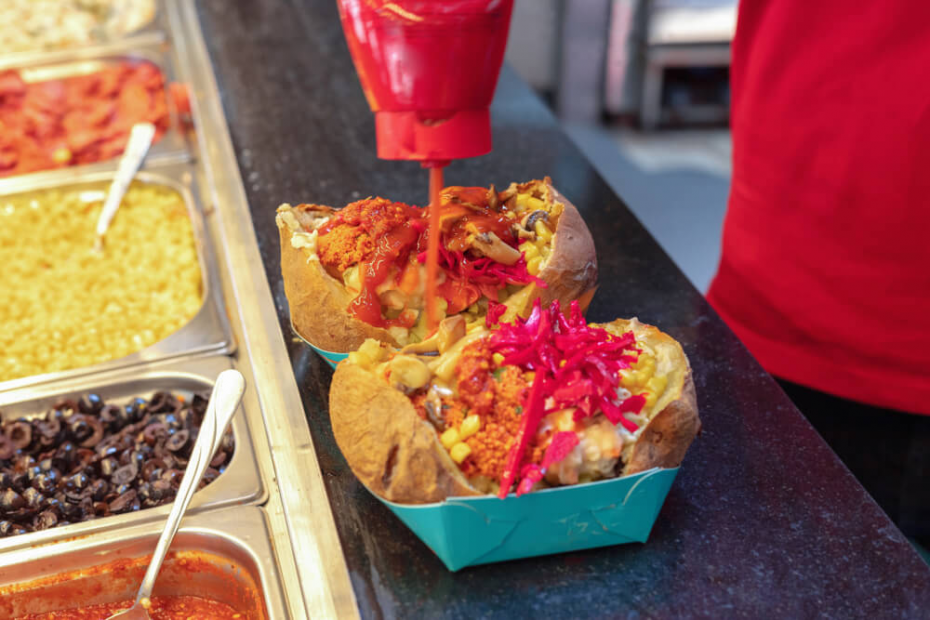 Kumpire, which is famous around Ortaköy, can be found on almost every coastal road. The baked potatoes, which are cooked in special ovens until they are soft and blended with butter and cheddar cheese, are known as a flavor that fits every palate with a variety of materials prepared to be put into it.
Chestnut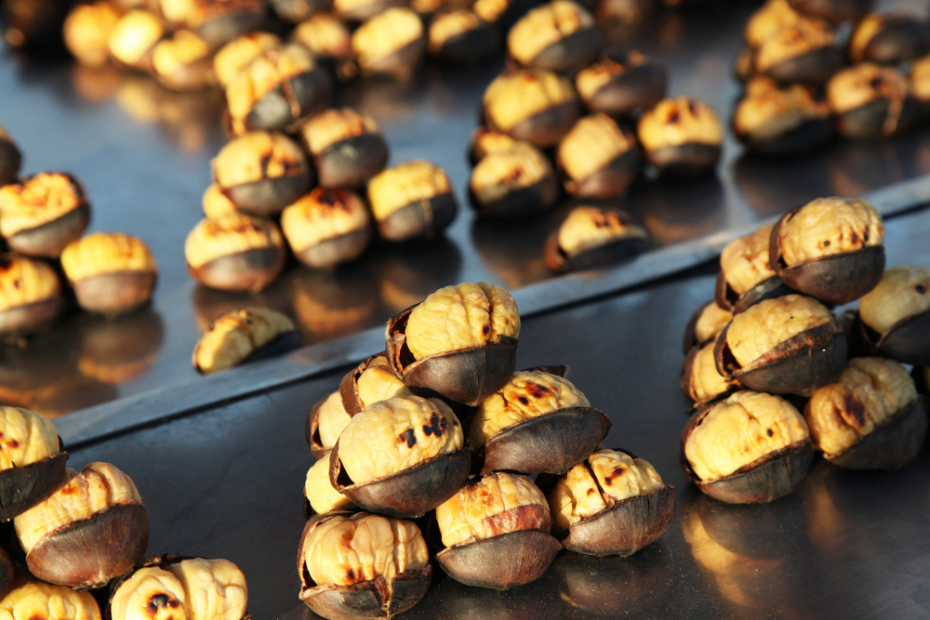 Chestnut in the embers, the sought after flavor of the winter season, is located in almost every street of Istanbul with its magnificent smell. The chestnuts, which are cut with a knife and placed on the grill, are cooked until soft on the embers. Hot chestnuts that burn hand are put into the paper bags and served.
Iced Almonds
Fresh and sweet almonds are sold on a tray with ice cubes. Icy almonds which is one of the refreshing flavors of hot summer evenings, cannot be found anywhere else. It is recommended that this taste, which is not frequently encountered, should be tried when it is caught.
Stuffed Mussels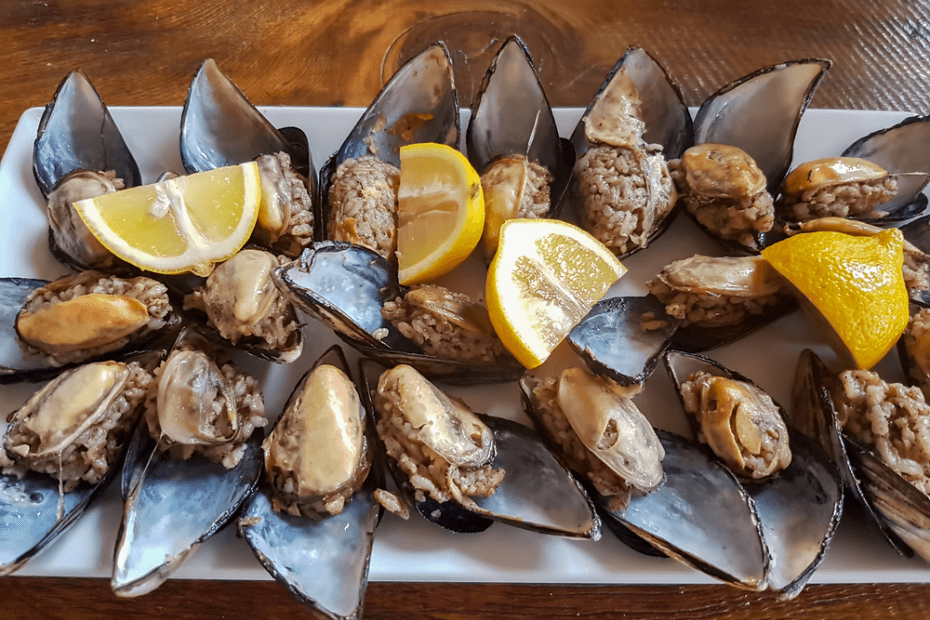 Stuffed mussels, which is one of the street delicacies of Istanbul, take their place on the stalls by boiling the ripe mussels collected and staffing them with spicy rice. Stuffed mussels sold in wooden trays with three long legs are served with plenty of lemon. No matter what time it is day or night, the stuffed ones who swept away by their lovers were very much in demand when it came to the street.
Topik
It is known as an Armenian dish that entered Turkish cuisine a long time ago. Chickpeas, potatoes and onions are used as the main ingredients of this unique taste, olive oil is used in abundant spices. Topik, which is better known as an appetizer, is one of the favorite legacies selected from the old Istanbul dishes.
Wafer(Paper Halva)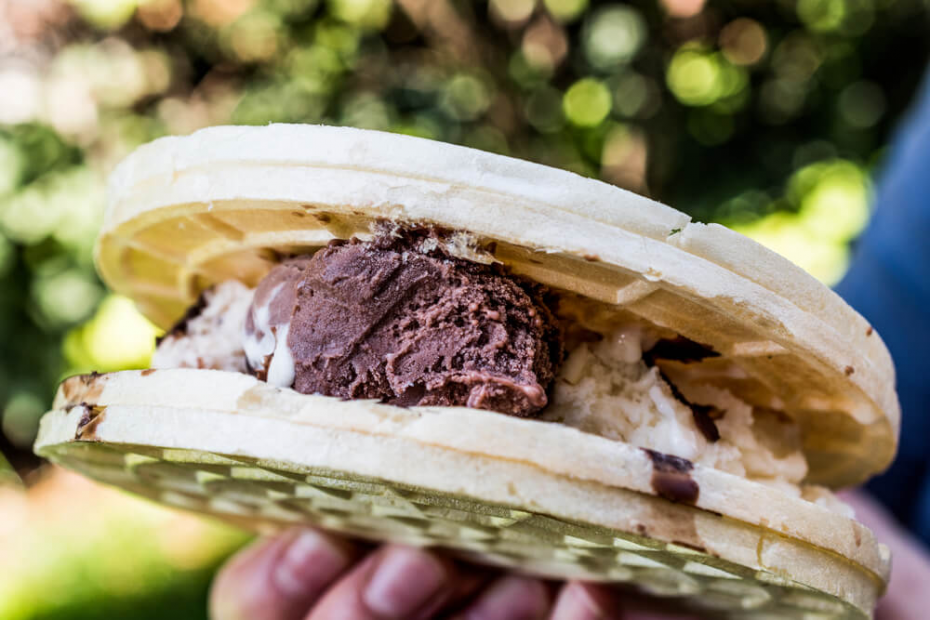 Paper halva, one of the most famous delicacies of Istanbul, is one of the nostalgic delicacies seen on the streets, though not as much as before. If you have seen ice cream or halva which is simply eaten, it is recommended that you never miss it.
Rice with Chickpeas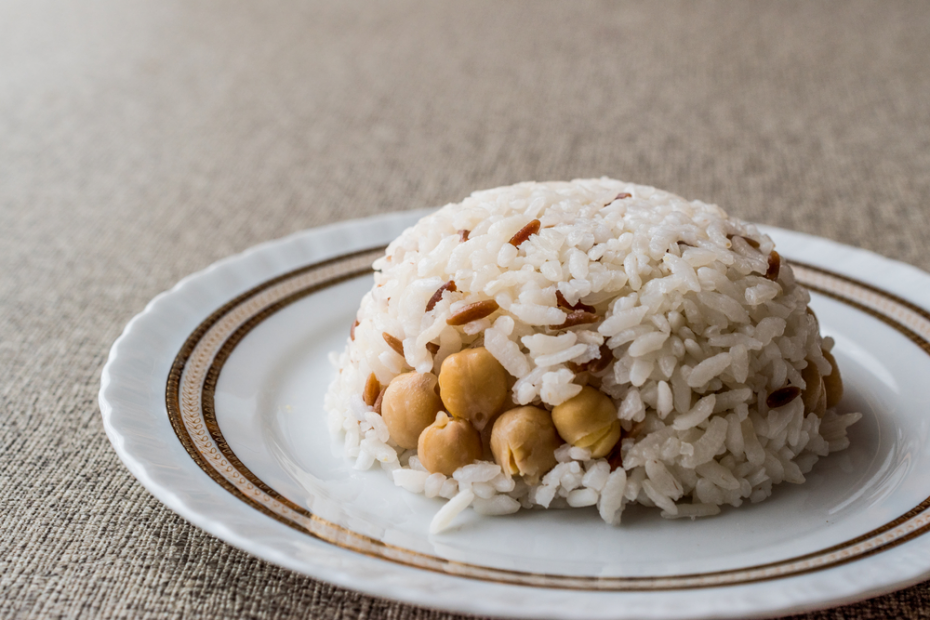 Mobile rice carts, which you can see frequently in the streets, are an indispensable point among the delicacies of Istanbul. On top of the homemade chickpea rice, chickens that are golden in the oven are stacked. This street flavor, which creates a queue in front of some mobile cars, welcomes its guests on tiny stools in front of it.
Meatball
Portable meatball carts, which are frequently seen in the vicinity of the stadiums, are among the street delicacies of Istanbul where people can quickly feed their bellies before and after the match. The car is equipped with a grill where the meatballs are cooked, and the hopper where the cooked meatballs are placed.
Tantuni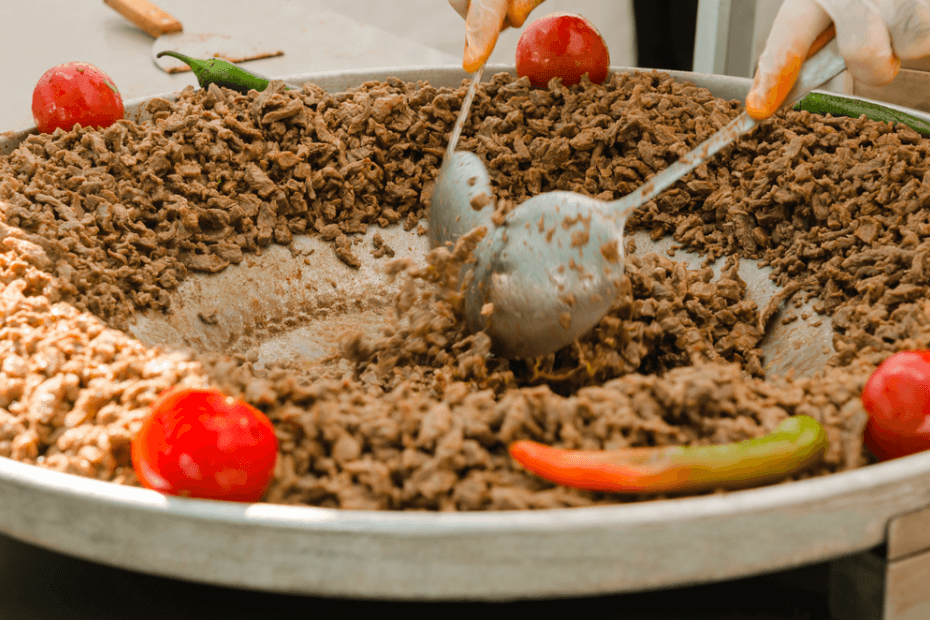 It can meet the people who sell the original taste tantuni to the Mersin region everywhere. Blended red meat and tail oil with spices, minced meat is served with parsley, tomato, sharp pepper and onion between bread.
Street Pickers
Pickle cars still exist in Fatih, Unkapanı, Eminönü and Beyoğlu. Pickles, which have been inherited from Ottoman cuisine, accompany most Turkish dishes and add flavor. Pickles can be made from almost all kinds of vegetables by lemon and vinegar and they are sold in cup with pickled water.
Albanian style fried diced liver
Nowadays it is known as a street flavor that is not seen very often. This aroma of flavor, which is produced by frying tiny liver pieces soaked in flour in hot oil, is served between parsley onions and bread.
Doner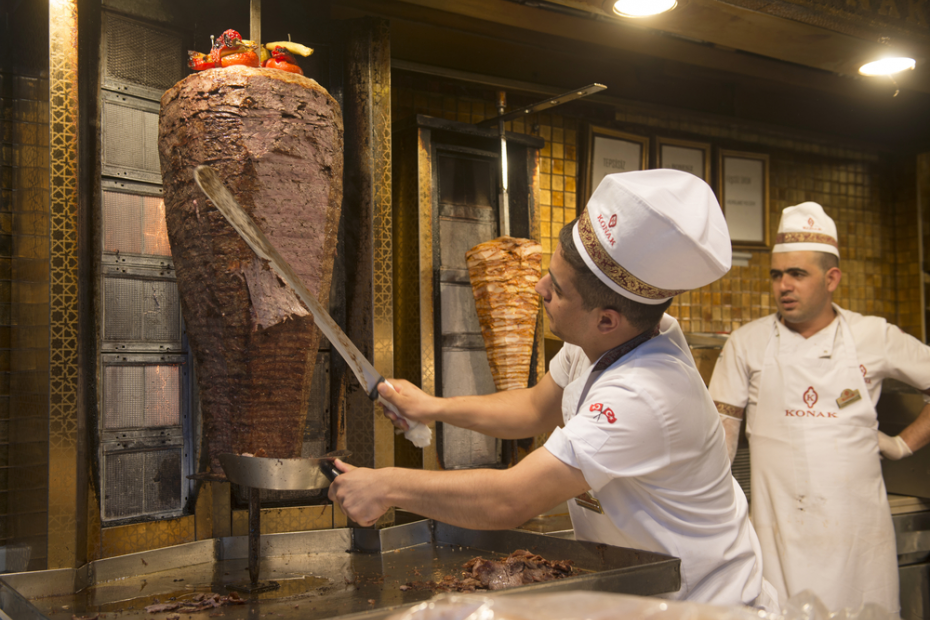 It is known by everyone and is one of the most consumed street flavors. It is known for its varieties made with red meat and chicken. It is almost impossible to walk past near from odor that slowly emerges around the wood fire by the rows of meat, which are inserted into a large bottle. In addition to serving as a rotating portion, it is usually served with fried potatoes and greens between white bread or lavash. In addition to serving portion, it is usually served with fried potatoes and greens between white bread or lavash.
Boza
The main material of boza, which has been preserved since ancient times, is leblebi. Boza, especially consumed in winter, is known as an abundant source of vitamins. Boza, which is a thick beverage, is served in a glass with cinnamon and beautifully fried leblebiler.
Wet Hamburger(Islak Hamburger)
Made with plenty of spices and garlic meatballs, prepared by putting the hamburger bread soaked with tomato paste, wet hamburgers, kept warm in the showcase awaits its buyers. This flavor, which you can see especially in İstiklal Street in Taksim, can be found even in the morning hours of the day.
Cigkofte Wrap
Thin bulgur, tomato paste, finely chopped raw meat and cıgkofte made with various spices come out with a meatless version on the street. Since it contains raw meat, it is claimed to be healthier as meat without street food. Çiğköftes served with lemon, arugula, lettuce, pomegranate sour and optional hot sauce in lavash are among the most popular street foods to eat.
Ice cream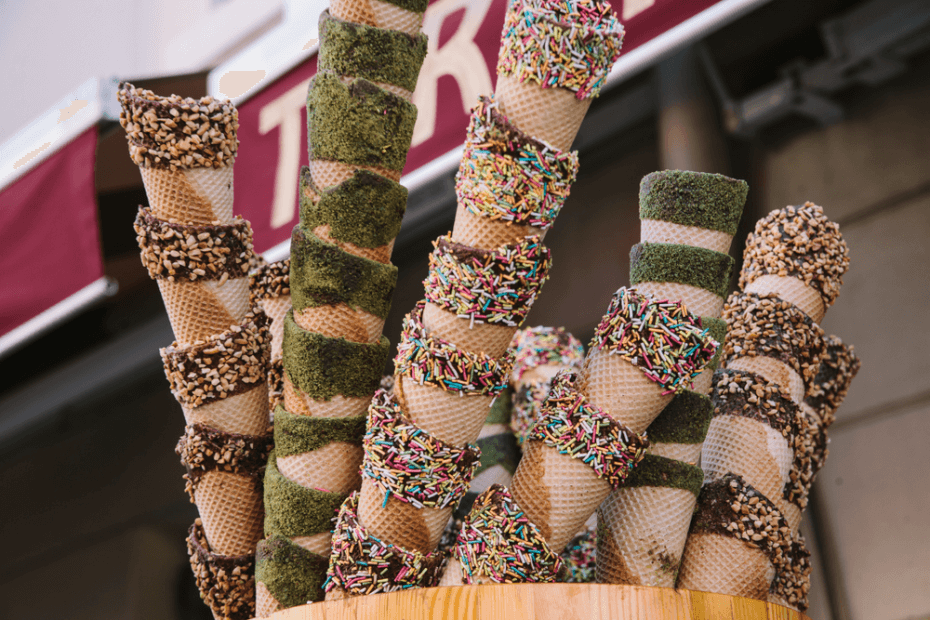 Even though the ice cream, which is the savior of the summer months, has conquered the hearts of everyone in the world by addressing people of all ages, Maras ice cream is one of the delicacies that must be tried in Istanbul. Ice-cream that smells like goat's milk and can be eaten by biting because it doesn't melt immediately. It is known as ar 'spoon-bending' and especially it can be seen in tourist areas and coastal areas. It is not possible to get these ice creams that you will not find anywhere else without being exposed to the traditional jokes of the sellers.
Waffle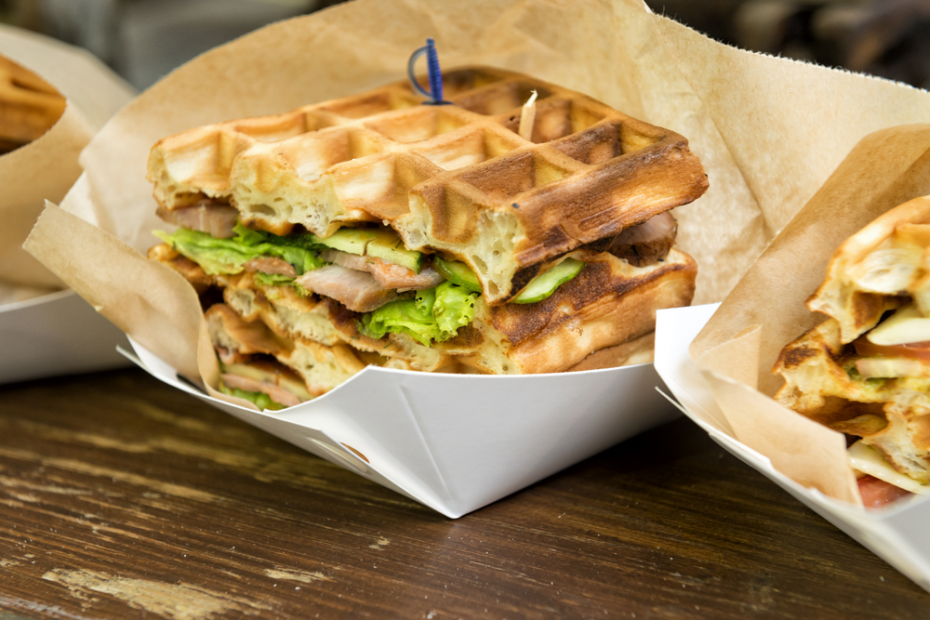 Waffle, which is one of the most preferred street delicacies, is sold like an exponential sandwich. This dessert, served with a variety of optional chocolates, fresh fruits and fragrant candies, is proudly among the mouth watering delicacies of Istanbul.
Patty(Borek)
There is nothing like the taste of colorful crispy pastries made with thin doughs placed between various kinds of ingredients. Especially if you have the chance to eat heat, this street flavor, which is hard to withstand its smell, is appealing to both the stomach and eyes with its minced, cheese and potato varieties. If you've seen trays filled with square cut pies, it's definitely recommended to try.