Turkey, surrounded on three sides by the sea, in a country that is enchanting coves and spectacular beaches is known as a complete holiday center. Turkey welcomes the large number of tourists every year, as the beach and be able to enjoy the summer in the bay, aqua park with different themes in many provinces in the country have shown great interest. The water parks, which are preferred by many local and foreign tourists, are ideal for spending all day fun and add some excitement to the family during the summer months. Here the best aquarparks in Turkey...
1.Marina Aquapark Waterland
marina Aquapark Waterland, which is located in Tuzla district of Istanbul, has been opened for service on 4 June. It has 12 water slides, a wave pool, a children's playground and a water park. Having the largest water slide in Europe, the water park promises its guests fun activities throughout the day and delicious food in its restaurants.
2.The Land Of Legends
The Land Of Legends is located in Antalya which is Turkey's the largest holiday resorts. It is known as Turkey's Disneyland. The resort, which serves as a theme park and a water park, offers activities such as diving, swimming with dolphins and water skiing. In addition to these, there is an area with penguins and a whale pool in this large aquapark. Also accommodation venues in the area, restaurants and shopping are also taking has become one of Turkey's most beautiful water park.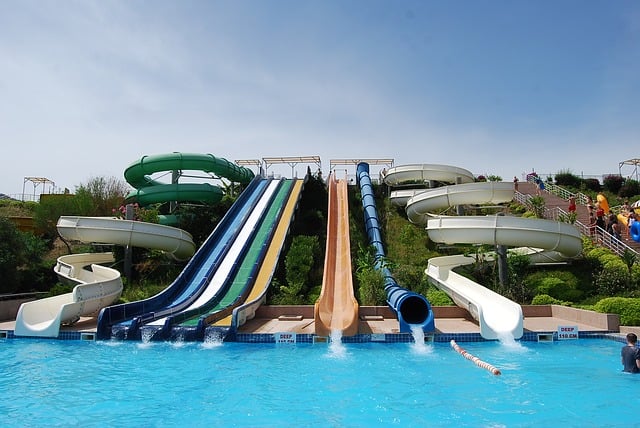 3.Aqua Marine
Aqua Marine is located in the Büyükçekmece district of Istanbul for 18 years. It is one of the largest water parks in the city. The resort has an olympic and semi-olympic swimming pool, and offers fun activities such as rafting, wave pool and slides.
4. Didim Aquapark
Didim Aquapark is located in Didim is one of the indispensable summer centers in Turkey. It has a swimming pool filled with sea water and real sand, 23 water slides and 9 swimming pools. Activities such as foam and rain dance add to the day in this large water park with a capacity of five thousand people.
5. Dolusu Park
Aqua park is located in Kemer district of Antalya. Turkey brings a new breath to entertainment with unparalleled waterslides. The Dolusu Park, which is located by the sea and has a magnificent nature view, welcomes its visitors in the most beautiful way. There are activities such as mermaid shows, dolphin shows and 17 adult and 9 children's pools in the park inspired by Turkish fairy tale heroes.
6. Aqua Club Dolphin
Aqua Club Dolphin provides services since 2001, in Istanbul and takes its place among the most beautiful water park in Turkey. It welcomes its guests with concerts and activities organized in summer months. The water park is located in Bahcesehir, which includes different slides and pool options.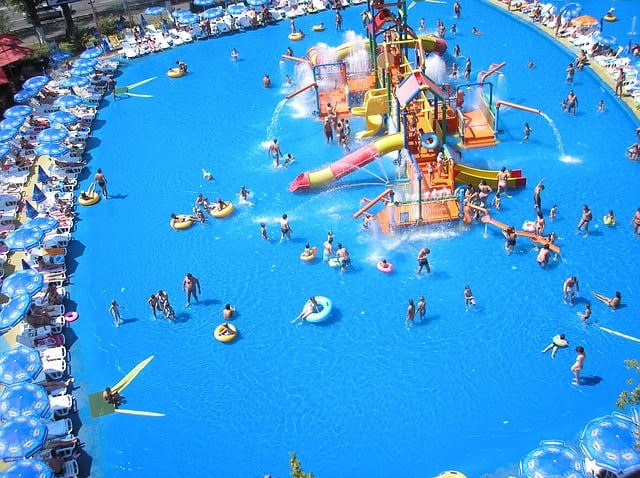 7. Aqua Dream Water Park
Aqua Dream Water Park, located in Marmaris, has been serving its visitors since 2006. The water park, which is located in a giant area of ​​44 thousand square meters, has many water slides such as rafting slide, body slide and black hole. plant which is one of Turkey's most beautiful water park, waiting for their guests to have an unlimited entertainment.
8.Coliseum Aquapark
Coliseum Aquapark in Beykoz, Istanbul has 6 slides, 4 pools, wave pool and indoor pool. The water park, which is built in a green area, offers different alternatives for those looking for both entertainment and calmness.
9.Water Planet Aquapark
Water Planet Aquapark is located in Alanya, one of the most popular holiday resorts of the Mediterranean. It gives visitors an excellent experience full of fun. You can spend a day full of adrenaline rafting in the water park with artificial waves. One of Turkey's most beautiful shopping facilities in the waterpark shops and grocery stores are also included.
10.Ninova Aquapark
Ninova Aquapark is located in the district of Nilüfer in Bursa. It has an Olympic swimming pool. With its waterslides and many activities, the aqua park has been in service since 2013.
11.Mavi Su Aqualand
Mavi Su Aqualand, which started to serve in 2006, is located in Adana. Located on the banks of the Seyhan River, the resort offers the most enjoyable summer slides. In this beautiful water park, there are areas where different sports activities can be done.
12.AquaCity Balçova
AquaCity Balçova, the first water park of İzmir, is located on an area of ​​40 thousand square meters. aquapark water park is located among the most beautiful in Turkey, with 22 water slides, can accommodate about four thousand people with seven pools and tennis courts.
13. Aqua Fantasy
Turkey's first Aqua Fantasy themed water park, which is located in Izmir's Selçuk district. The aqua park, which has a pool full of water toys for children and a variety of slides, has been serving its visitors since 2000. Aqua which has the distinction of being one of Turkey's most beautiful water park Fantasy, weekends in the summer, offers a wonderful experience for families wanting to spend with fun and exciting activities.