With its crystal-clear waters, large and pristine shores, Turkey has a lot of beaches that fascinate its visitors and attracts the attention all over the world by showing high performance at tourism sector in 2019. The Aegean and Mediterranean beaches, along with their historical, cultural and natural beauties, welcome many local and foreign visitors in the summer months, while the turquoise seas, white sand and beaches where you will find peace in the world are waiting to be discovered. Here is where that provides visitors with different tastes in beauty, the top 5 list of Turkey's famous Turquoise Coasts....
Oludeniz / Mugla
Being Turkey's most widely used tourism promotion shore, Oludeniz beach locates in Muğla's Fethiye district's boundaries and offers rich accommodation and restaurant options while being accompanied by influx of tourists every year with its beach that was selected the best sandy beach in the World in 2006. Oludeniz, where the majority of the beaches are open to the public, hosts hundreds of thousands of tourists from all around the world every year. It attracts attention with its clear sea that contains different shades of blue, its white beaches and highly oxygenic air, yet it is never contaminated even though it is in a closed basin.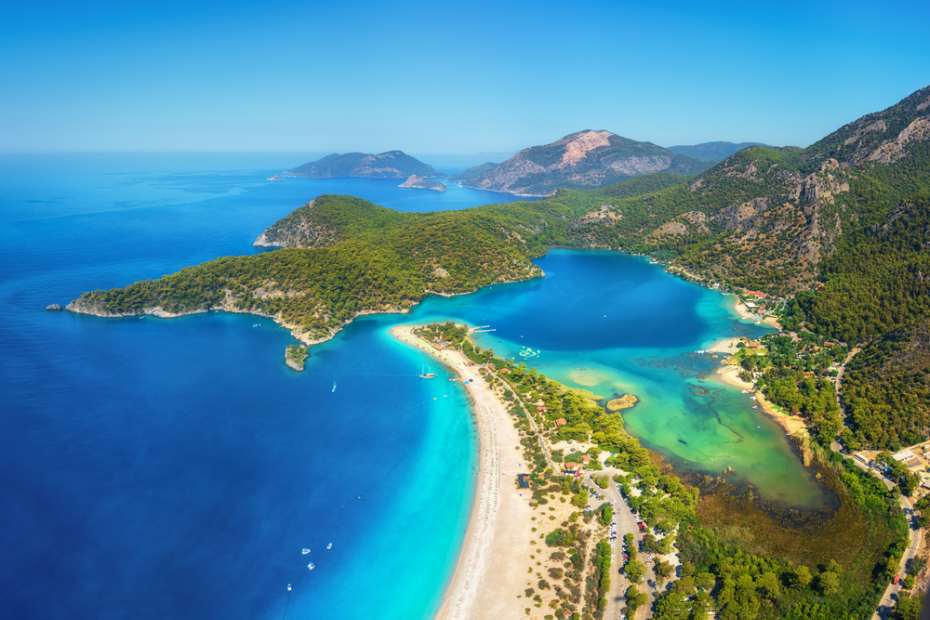 Paragliding: Ölüdeniz is also famous for its paragliding opportunities. It is considered one of the best paragliding areas in the world due to its unique panoramic views, constant weather conditions and the proper height and location of the Babadağ Mountain.
Lycian Way: Since 2010, an international one-day trail called the Lycian Way Ultra marathon has been organized on the historical Lycian Way. The event covers the route starting from 100 km Belören ( Antalya) region in 2 days and ending in Çıralı, Antalya.
Diving Tourism: Being among the most famous Turquoise Coasts inTurkey, Oludeniz has clear waters and offers a variety of diving opportunities with underground caves that are rich in water and fauna. Scuba diving is the most popular underwater activity in the area, while local dive agencies provide courses and the necessary scuba diving licenses. Snorkeling stands out as another popular diving event, and many places offer suitable opportunities for snorkeling.
Sedir Island Beach / Mugla
Sedir Island, the largest island in the Gulf of Gökova, is famous for its golden sandy beach and sea. It is also known as Cleopatra Beach. Legend has it that The Roman commander Antonius brought this organic sand that is not found anywhere else from Egypt with 60 ships and gave the island to Cleopatra, the Queen of Egypt, as a gift. The island, which is comfortable in terms of its proximity to Marmaris and an ease of transportation for tourists, has also picnic and sightseeing opportunities along with the sea and beach. The island of Sedir offers an unforgettable holiday opportunity to local and foreign tourists with its fresh air, water and scenery while Boncuk Bay with its clear and clean sea provides visitors with the opportunity to stay on the beach. In the area between Boncuk Bay and Karaburun, it is possible to see the breeding and monitoring area of the endangered sand sharks photographed by visitors on boat trips. Dive tours to this region are organized at various times of the year.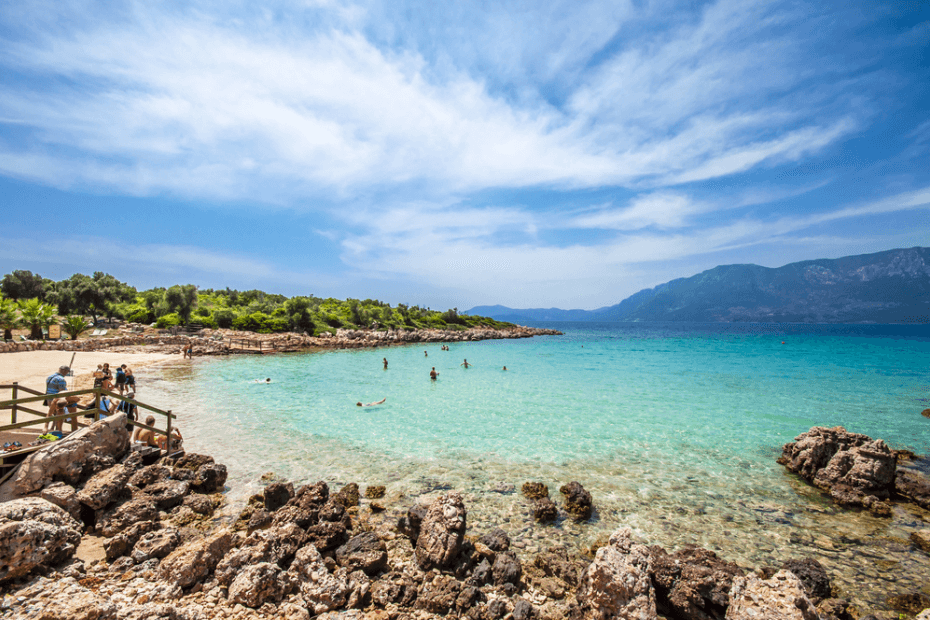 Ancient City of Kedrai: Just 200 meters from the beach, Kedrai means cedars in ancient Greek. The most important remains of the Hellenistic and pre-Hellenistic period in this settlement area, which has been home to Greeks, Persians, Hellenes, Romans and Byzantines throughout the history, are the city walls. The Kedrai is on the trade roads, especially the ancient theater of 2500 people, the agora, the ancient Harbor, walls, cisterns and the ruins of the sanctuary and ornamental sarcophagi thought to belong to important people can be seen.
Patara Beach / Antalya
Having one of Turkey's longest beaches and having its name from the ancient city beside it, Patara beach is ranked as Turkey's one of the cleanest beaches. Patara is a part of the ancient city of Patara, which is located between Kas and Fethiye districts and is now Gelemis village. It is also the birthplace of St. Nikolaus, known worldwide as Santa Claus. Patara Beach, which made the concept of Ecological holidays become popular in Turkey, has a large number of accommodation options. A 1.5-kilometer walk takes you to the historical Patara Antique City of the region, and you can visit the ancient city of Patara, which includes ancient theaters, necropolis, basilica and baths. In order to enjoy the scenery, the sandy dunes that form completely natural on the long beach allow you to take unique photographs. Being the backdrop in the desert scenery Yesilcam films, Turkey's famous turquoise coast is under protection as sea turtles (caretta caretta) leave their eggs in the area.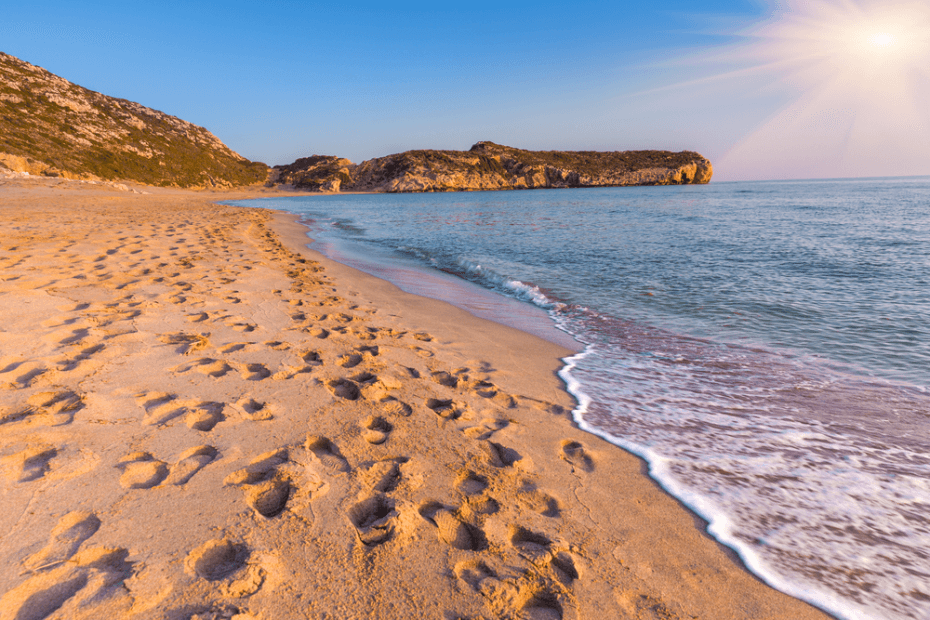 Caretta caretta: Known as Caretta carettas' (the sea turtles'), one of the most important breeding areas in Turkey, Patara beach is known as "Special Environmental Protection Area " against the threat of settlement. Many curious tourists watch the adventure of turtle hatchlings from birth to the sea with interest.
Kaputaş Beach / Antalya
Kaputas beach, which is one of the paradise bays of Antalya, counted as the center of summer tourism in Turkey, is located in Kaş, in the town of Kalkan. Kaputaş Beach, with its turquoise color surrounded by steep cliffs, is among the rare natural beauties of our country. There are approximately 200 steps to reach the beach, which is highly developed in terms of facility. Being a first-degree protected area, the beach preserves its untouched natural beauty and is known as a canyon mouth. The turquoise shades of the Kaputaş coast are composed of a combination of natural water resources boiling under the sea and pure natural water from the mountains. As Famous Turquoise Coasts of Turkey are attracting attention of both domestic and foreign tourists every day, this beach, which is considerably crowded in summer season, takes its share of the intensity. For this reason, it is generally recommended to go in September or April. The beach has several restaurants as well as a wonderful view and clear sea.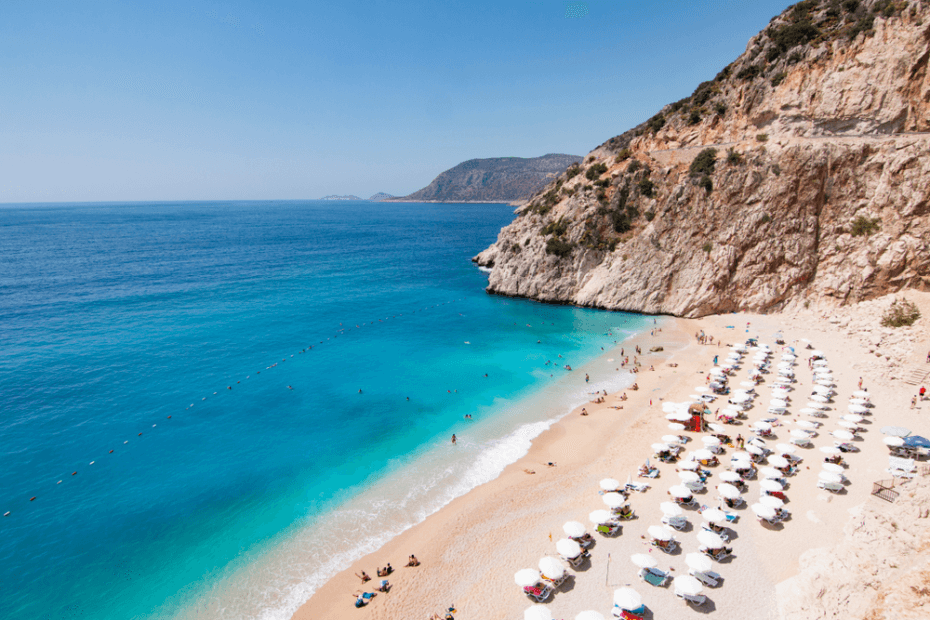 Blue Cave: Eskiden foklara ev sahipliği yaptığı bilinen Kaputaş Plajı'na yaklaşık 600 metre mesafede bulunan bu mağaraya tekneyle ulaşmak mümkün. İsmini dış kısımdaki dehlizlerden içeri giren mavi ışıktan alan mağara hem derinlik seviyesi hem de yapısı ile her seviyede dalıcıya mağara dalışı yapma imkânı tanıyor It is possible to reach this cave which is located 600 meters from Kaputaş Beach and used to be used to house seals, by boat. The cave, which takes its name from the blue light entering from the outer corridors, provides every level of diver the opportunity to dive in, with the help of its depth level and structure.
Diamond Beach / İzmir
Located about 10 kilometers from the center of Çeşme, the beach is located directly opposite Chios, in Çiftlikköy. With its good wind and strong waves, it is counted as one of the biggest reasons for Çeşme's being called as the capital of surfing. The beach takes its name from the fine sands that shine like diamonds, and it is considered as the favorite place of domestic and foreign tourists with its deep blue sea, sun and sandy beach. The slender layer of sand covering the entire coast creates a special look as much as possible. Diamond Beach attracts visitors with a large beach of 500 meters long and 50 meters wide along with its clear and clean sea. Diamond Beach, which is a candidate for becoming the capital of Europe in the field of professional surfing, is known as one of the favorite places for those interested in this sport. It is also possible to stay at the nearby hotels on the Diamond Beach, which provides facilities of accommodation, camping and caravans for visitors.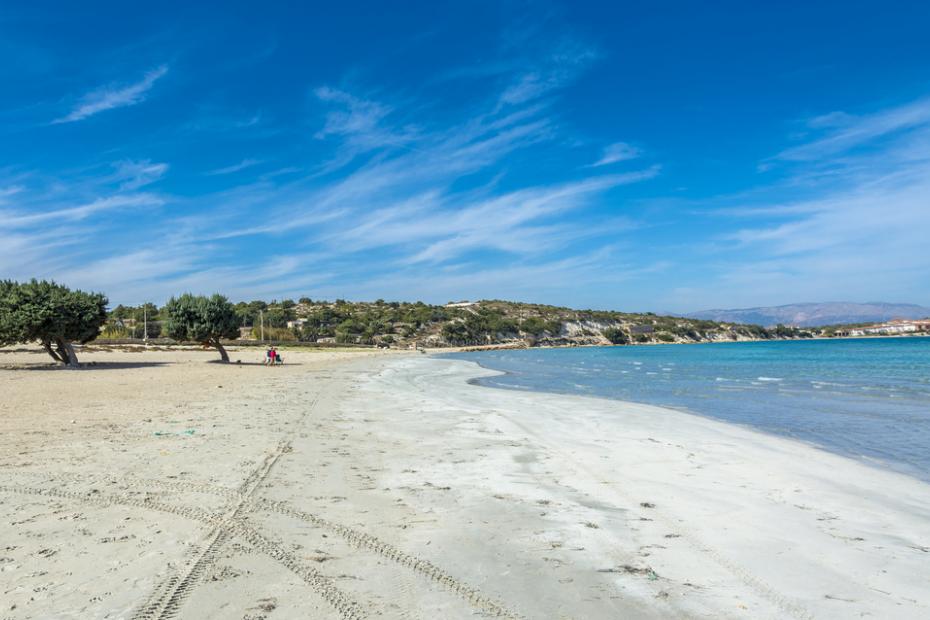 Professional Surfing: Due to the constant wind and regular beach waves, wind and kite surfing opportunities have a special place in the list of Famous Turquoise Coasts of Turkey. Since it is especially suitable for Kite surfing, the activities in this area gain importance.
Turkey, while continuing to be the center of attraction in the tourism possibilities and potential, Turkey's famous Turquoise Coasts also continue to impress many domestic and foreign tourists to itself. Everyone who bought at least 400,000 USD worth house, land, workplace, and other property from Turkey, can benefit from the advantages of citizenship of this country that outstands with its natural beauty and hospitality, under the guidance of professional companies such as Trem Global.